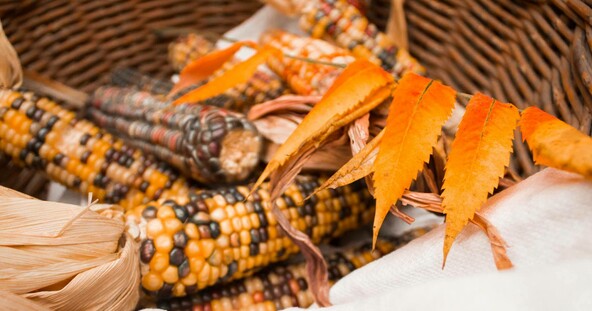 Member Exclusive: Corn More Precious Than Silver
Join the Museum for a conversation packed with kernels of history!

Thanks to the generous support of the Bridge Street Fund, this program is free and open to the public.
While exploring Cape Cod in November 1620, one of the Pilgrims' discovery parties, digging in heaps of sand at Pamet, "found a fine great new basket full of very fair corn of this year, with some thirty-six goodly ears of corn, some yellow and some red, and others mixed with blue, which was a very goodly sight." (Mourt's Relation, 1622). In describing the year 1624, just four years later, Governor Bradford wrote, "They now began to highly prize corn as more precious than silver, and those that had some to spare began to trade it with one another for small things, by the quart, pottle, peck, etc.; for money they had none, and if they had, corn was preferred before it. (Of Plymouth Plantation, Morison transcription, 1952.)
According to William Bradford, corn was "the staff of life." It's also the stuff of history. It's an a-maize-ing tale of Pokanoket and Plymouth cultural exchange. The historical impact of "Zea" (which was known in the 17th-century as Indian corn, turkey wheat, or "mays") cannot be overestimated. The indigenous communities surrounding Plymouth had been planting maize for thousands of years, and the Pilgrims' survival depended on their quickly mastering an unfamiliar crop. They received instruction from Tisquantum and from Native families that sachem Ousemequin had sent to set corn on the other side of Plymouth's Town Brook.
Join Plimoth Patuxet Museums for a conversation about the many kernels of history learned from the work of archaeologists studying Native corn mounds on Cape Cod and the south coast, and the discoveries about Pokanoket and Plymouth's cultural interactions resulting from the Museum's efforts to raise historic varieties of corn using 17th-century practices.

NOTE FOR ATTENDING THE ZOOM PROGRAM
To join the online program, two hours prior to the program's start time (6pm) you will receive an email with all pertinent Zoom details including a web link and a pass code to login.