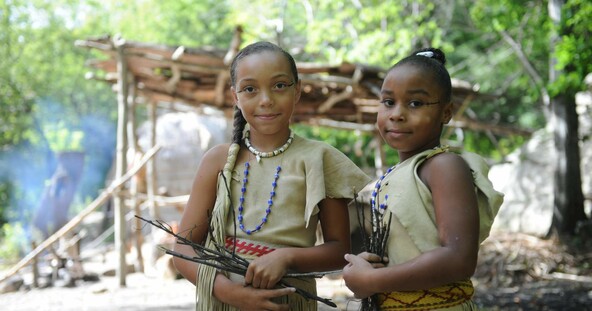 In His Own Words: Nanepashemet on the History of Indigenous New England
Learn more about the culture and heritage of New England's Indigenous People through the extensive work of Native scholar, Nanepashemet.
Thanks to the generous support of the Bridge Street Fund, the July, August, and September 2022 Members-Only programs are free and open to the public.
Typically exclusive to Plimoth Patuxet Museums members, this July we invite everyone to join the Museum for our monthly program that offers a deeper look into topics relating to 17th-century New England.
This program features Plimoth Patuxet's Deputy Executive Director and Chief Historian, Richard Pickering who will share how the Museum preserves the arts, crafts, and cultural heritage of the region's Indigenous People through the extensive work of Native scholar Nanepashemet. Nanepashemet (1954-1995) was the leading Wampanoag historian of the late twentieth century and his body of work is still unsurpassed.
In this program, Pickering will use footage from Plimoth Plantation Presents, an exclusive interview between himself and Nanepashemet in which they discuss the history of indigenous programming at the Museum and Nanepashemet's research on Wampanoag life in the 16th and 17th centuries. This video has not been accessible to the public since it originally aired in 1993.
This is an online program. A Zoom link will be emailed to you three hours prior to the program with a Zoom link for joining.