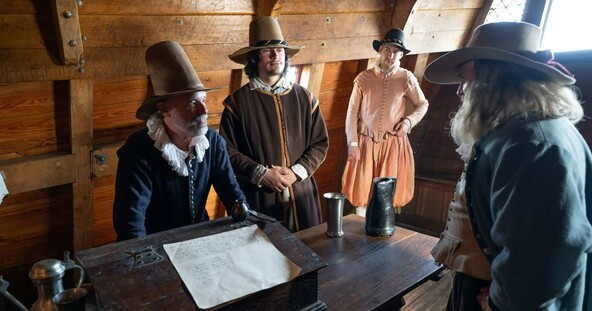 Member Exclusive: Plymouth's Contribution to the Bill of Rights
Historians once viewed Plymouth Colony's legal history as insignificant to the development of American law. However, legal historians have since recognized Plymouth's many contributions, including the institution of civil marriage, creation of a registry of deeds, and the adoption of inheritance rules other than primogeniture.
In the constitutional realm, between 1636 and 1671, Plymouth colonists crafted a declaration called The General Fundamentals which stressed their desire for self-governance as freemen. This has been viewed by historians as one of the earliest forms of a demand for representative government and individual rights in the American colonies.
We, the Associates of New Plymouth, coming hither as freeborn subjects of the State of England, endowed with all and singular; the privileges belonging to such being; Assembled, Do enact, ordain and constitute; that no act, imposition, law or ordinance, be made or imposed upon us, at present or to come, but such as shall be made or imposed by consent of the Body of Freemen or Associates, or their representatives legally assembled, which is according to the free liberties of the State of England.
Plymouth Colony was a birthplace of self-government in the British Atlantic World and played a critical role in this Nation's constitutional tradition. The Mayflower Compact was only the beginning of a groundbreaking seventy-year experiment in civil government and the search for individual spiritual liberties. Hosted by Richard Pickering, Deputy Executive Director and Chief Historian, this talk will explore the legacy of Plymouth Colony's four law codes and The General Fundamentals on the American Experiment.
Register Today

To register or inquire about how to become a member to enjoy Plimoth Patuxet's monthly Members-only program, please email members@plimoth.org