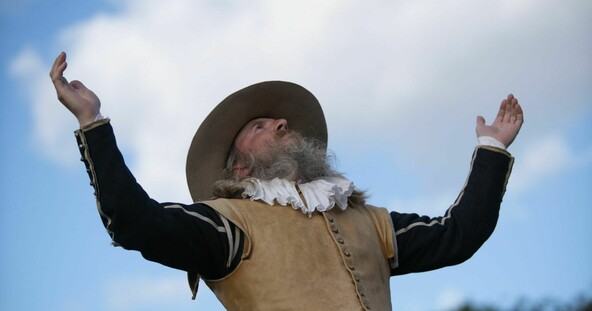 Member Exclusive: Religion and Reformation in Plymouth Colony
Much of the European side of the Plymouth Colony story is well-known to the American public: Mayflower sailed the ocean blue and the passengers established one of the first permanent (e.g. year-round) English colonies populated by families in North America. We know that many of the Pilgrims who came to Plymouth Colony were religious dissidents, but why were they against the Church of England? And, how did they fit within the Protestant Reformation? This program will explore the tumultuous changes and events that impacted Europeans and their theological beliefs from the early 1500s through to the mid-1600s, and will observe the changes in religious doctrine and relationships between denominations that impacted the Pilgrims and life in Plymouth Colony.
Join Remy Willocks, the Museum's Research Associate and Maritime Artisan, online on Thursday, September 28 from 6 p.m. to 7 p.m. to learn more about the English Reformation and how it impacted life in Plymouth Colony.
About Your Speaker:
Remy Willocks (he/him) is a historian from Nashville, Tennessee who earned both his Bachelors and Masters in history from Miami University, Ohio. In the nearly five years he has been at Plimoth Patuxet Museums, he has been involved in a variety of projects including the National Endowment of the Humanities Public History fellowship, the 2020 Mayflower II restoration voyage, and most recently the Lilly Endowment Founding Faiths program. Over the last six months, he has undertaken in-depth research into European religious history of the early modern era to form a foundation of scholarship to create engaging public programming.
NOTE FOR ATTENDING THE ZOOM PROGRAM
To join the online program, two hours prior to the program's start time (6pm) you will receive an email with all pertinent Zoom details including a web link and a pass code to login.

Register Today
To register or inquire about how to become a member to enjoy Plimoth Patuxet's monthly Members-only program, please email members@plimoth.org