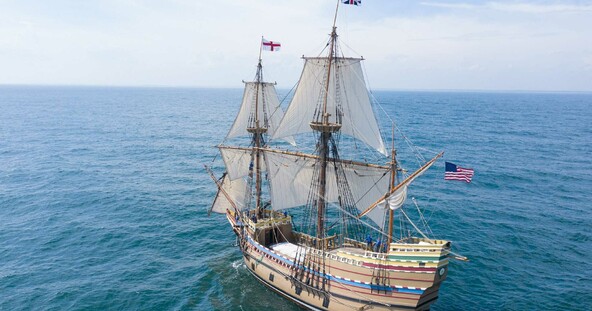 Members Exclusive: Becoming America
If Mayflower had arrived in Northern Virginia as intended, and the Mayflower Compact never written and ratified, what would American Democracy be like today? Would the American Experiment – with its commitment to the safe transfer of power, trial by jury, no taxation without representation, and Bill of Rights – be dramatically different?
Fortunately, we will never need to answer that question. The Mayflower Compact and Mayflower Descendants have shaped American institutions and influenced pivotal moments in our Nation's history. Deborah Sampson, disguised as a man, fighting for the Patriot cause during the American Revolution. John Quincy Adams arguing before the United States Supreme Court for the freedom of the 35 enslaved Africans held aboard the ship Amistad. Amelia Earhart taking to the skies and breaking aviation records. These are just a few of the stories.
Join Plimoth Patuxet's Deputy Executive Director and Chief Historian, Richard Pickering for an evening of historical exploration and conversation. You will learn more about the political, spiritual, economic, and cultural legacy of Mayflower's crossing – or as we here at the Museum like to think of it – The Voyage That Made A Nation.
Register Today
To register or inquire about how to become a member to enjoy Plimoth Patuxet's monthly Members-only program, please email Candy Massard at cmassard@plimoth.org.