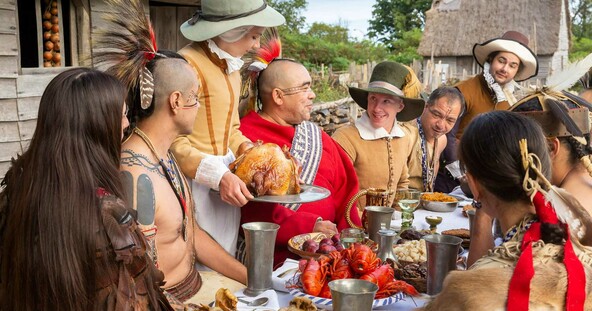 Virtual Field Trip: Fact or Fiction the First Thanksgiving
During each Fact or Fiction: The First Thanksgiving program one of our museum educators guides your students in thinking critically about what really happened at the First Thanksgiving. Who was at the table and why? Students explore the history behind the legend by comparing written and oral accounts of the harvest feast and examining colonial and indigenous artifacts. programs may address questions such as:
What is a primary source? Whose voices or perspectives might be missing?
What does Edward Winslow's letter tell us about the harvest celebration? What doesn't he tell us?
What happened during this harvest feast, who attended, and what was eaten? How do we know?
What kind of relationship did the Pilgrims have with local Indigenous sachems (leaders), including Ousamequin, known to history as Massasoit?
Did the Pilgrims consider this celebration a "thanksgiving?" Why or why not?
What did a celebration for giving thanks look like for the Patuxet?
How did this celebration become the holiday we know today as "the First Thanksgiving?"
Fact or Fiction: The First Thanksgiving programs may also include conversations about the kidnapping and enslavement of Indigenous people, the impact of European diseases on Indigenous communities and culture colonization, immigration, religious or spiritual life in the 1600s, and loss of loved ones. Our Museum Educators are experienced in working with students and facilitating age-appropriate, nuanced, historical conversations about Wampanoag and Colonial history, culture, and community with sensitivity and empathy. If you would like to speak to the Education Department staff about the program in more detail, please don't hesitate to reach out at programs@plimoth.org or (508) 746-1622 x8359.
This program is best for students in grades 2-5.

[Image Credit: Kathy Tarantola/Plimoth Patuxet Museums]