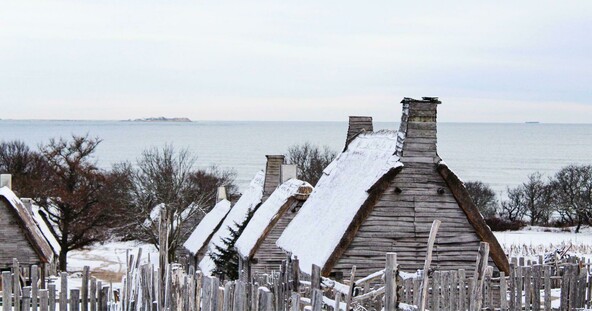 Winter in Plimoth & Patuxet
Have fun at Plimoth Patuxet Museums during winter vacation week!
How did families in Historic Patuxet and 17th-century Plymouth Colony beat the winter blues? Come find out and enjoy hands-on winter-themed activities, crafts, games and stories for kids and their families.

Sign up for one day or the whole week! Each day will feature a different hands-on winter-themed activity:

Tuesday February 21 - Families in Winter
Winter was a busy time for families living in 17th-century Plymouth Colony and Historic Patuxet. Visit with Pilgrims and modern Indigenous educators for hands-on activities and games that explore how daily life in these communities changed with the seasons.
Wednesday February 22 - Animals in Winter
Deer, bear, moose, and other wild animals were important winter-time resources for the colonial English and Wampanoag communities of the 1600s. Explore why wintertime was hard for these wild animals and discover the unique ways they adapted to survive.
Thursday February 23 - Storytelling in Winter
Winter is the season for stories. Discover many ways the communities of Plymouth and Patuxet told stories using pictures, words, and natural resources.
Friday February 24 - Food & Celebrations in Winter
Winter is a time for social gatherings and plenty of food! Explore how Wampanoag and colonial English diets changed during the winter, experiment with a 17th-century recipe, and enjoy a historically-inspired winter social.
Pricing
Members Full Week Pass: $90 (up to 4 people)
Non-Members Full Week Pass: $110 (up tp 4 people)
Members Per Day: $25 per family (up to 4 people). Additional guests are $6 each.
Non-Members Per Day: $30 per family (up to 4 people). Additional guests are $8 each.
This program is best suited for children between the ages of 5 and 8. Pre-registration is required. All children must be accompanied by an adult.