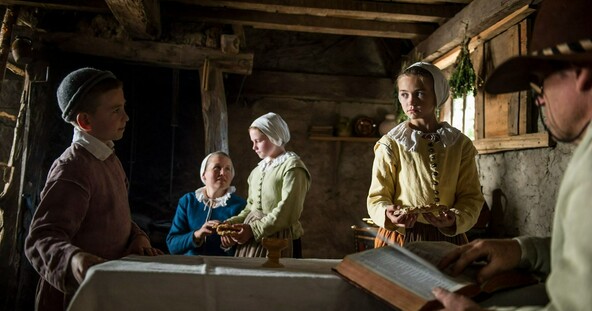 Virtual Field Trip: Colonial First Families
During each Colonial First Families program, one of our museum educators will portray a resident of 1627 Plimoth Colony, using their life story to frame the program. Your Museum Educator will speak with a regional, English dialect of the 17th century and wear accurate reproduction clothing to bring the world of the Pilgrims to life. Using reproduction artifacts to enhance your classroom's experience, your visitor will share the story of the Pilgrims and Plimoth Colony from their unique perspective. Students will have an opportunity to ask their questions and handle some of the artifacts throughout the program. Colonial First Families programs may address questions such as:
What was life like in England in the early 1600s and why did the Pilgrims choose to leave?
What was it like to sail aboard the Mayflower in 1620?
What happened at the 1621 harvest celebration (known today as the "First Thanksgiving"?)
What challenges did the Pilgrim men, women, and children overcome in their new home?
What kind of relationship did the Pilgrims have with local Indigenous sachems (leaders), including Ousemequin, known to history as Massasoit?
How is everyday life in New England in the 1620s different from life in England or Holland?
People in the 1600s thought very differently than we do today. During your program, the Museum Educator portraying a 17th-century resident of Plymouth Colony may express ideas or beliefs that were commonly held at that time. You may not agree, and that is ok! We hope that this can lead to lively and thoughtful conversation about how people from different cultures and times in history think, feel, and live their lives. All questions are welcome and encouraged.
Colonial First Families programs may also include conversations about colonization, immigration, religious or spiritual life in the 1600s, and the loss of loved ones. Our Museum Educators are experienced in working with students and facilitating age-appropriate, nuanced, historical conversations about Wampanoag and Colonial history, culture, and community with sensitivity and empathy. If you would like to speak to the Education Department staff about the program in more detail, please don't hesitate to reach out at programs@plimoth.org or (508) 746-1622 x8359.