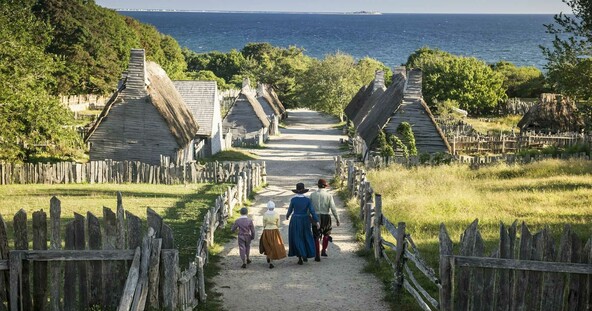 Hours, Tickets & Directions
Visit Plimoth Patuxet Museums
Thank you for a wonderful 2023 season. Plimoth Patuxet Museums will be open for the 2024 season in early spring through the Sunday following Thanksgiving Day.
Learn all the ways you can engage with Plimoth Patuxet during the off-season
Plan your 2024 visit to Plimoth Patuxet Museums where you can step aboard Mayflower II, immerse yourself in Plymouth Colony, meet with Pilgrims, gather kernels of history at Plimoth Grist Mill, and learn about the Indigenous peoples and English colonists who met along these shores of change in the 17th century.

Museum Shops Holiday Hours
Do your Christmas shopping in the Visitor Center Museum Shop until December 24th at noon!
December 1-6, 11, 13, & 18-20
10 a.m. - 5 p.m.
December 7-9, 14-16, & 21-23
10 a.m. - 7 p.m.
December 24
10 a.m. - 12 p.m.
Ticket Options
Explore the different ticketing options below for the Museum's multiple living history sites. Tickets purchased online will be valid for the entire 2024 season.
Did you know that Members enjoy free admission, special discounts, and invitations to exclusive events? Become a Member and make history come alive!
Heritage Pass
Plimoth Patuxet, Mayflower II, and Plimoth Grist Mill
Member Free
Adult $44.95

Senior $40.45
Child $28.95
Plimoth Patuxet Only
Member Free
Adult $33.95

Senior $30.50
Child $19.95
Combination Pass
Plimoth Patuxet and Mayflower II
MemberFree
Adult $42.95

Senior $38.65
Child $26.95
Plimoth Grist Mill
Member Free
Adult $9.95

Senior $8.95
Child $7.95
Mayflower II
Member Free
Adult $17.95

Senior $16.00
Child $12.95

Plymouth Pass
A special ticket for residents of Plymouth, Massachusetts. $5 per site with a valid driver's license or utility bill demonstrating residency.
Please note that visitors to the Museum may be photographed, videotaped, or otherwise recorded. By attending, you grant the Museum permission to use photographs and/or audiovisual recordings in which you appear for archival, documentary, publicity, advertising, or other purposes.