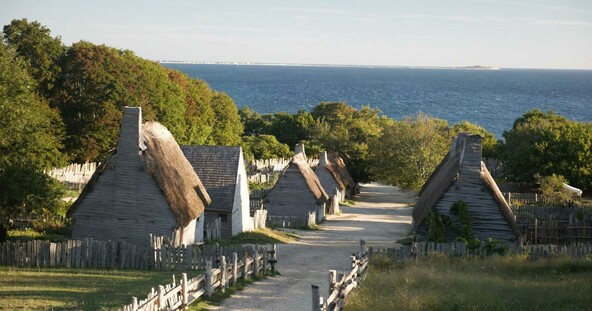 Summer Camps
Explore the Past Like Never Before!
Immerse yourself in history and culture during our popular hands-on, living history summer camps in Plymouth, MA. Camps are offered during select weeks in June, July, and August.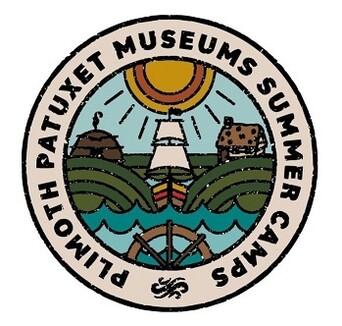 Pre-registration is required for all camps. Register your camper(s) today.

2023 Summer Camps Opportunities
Plimoth Patuxet Adventure Camp (Ages 8-11)
June 26-30, 9-3:00 p.m.
August 7-11, 9-3:00 p.m.
Explore the past like never before with our popular immersive, hands-on Plimoth Patuxet Adventure Camp! Your camper will become a history detective and solve puzzles, conduct living history experiments, and discover what life was like in Plymouth and Patuxet in the 1600s. Campers learn new skills along the way as they explore homes, boats, and ships; work in the gardens, play games, and try their hand at some 17th-century trades and chores before bringing everything together for a special camper-curated exhibit opening!
Pricing
Early Bird Member Pricing (Through April 1) $285
Early Bird Non-Member Pricing (Through April 1) $320
Member $335
Non-Member $375
Pre-registration is required for all camps. Register your camper(s) today.
*New!* Museum Theater Camp
Plimoth Patuxet's Museum Theater Camp is a unique, immersive experience that combines history, culture, and drama to bring stories from our shared past to life.

Playing the Past (Ages 11-14)
July 10-14, 9-3:00 p.m.
Have you ever wanted to be a Pilgrim in the 17th-century English Village? Now you can! In "Playing the Past" camp, campers will work with museum experts, historians, and Living History Performers learning to portray a real Pilgrim who lived in Plymouth Colony in 1627. Campers will get hands-on experience exploring daily life for children in the 1600s and enjoy fun acting exercises, dialect work, costume and material culture, and playmaking to create their own scripted Pilgrim scenes. They will conclude the week with a live performance in our own mini version of the 17th-century English Village!

Pre-registration is required for all camps. Register your camper(s) today.
Shakespeare & Friends (Ages 11-14)
July 24-28, 9-3:00 p.m.
"All the world's a stage at "Shakespeare & Friends" theater camp as Campers focus on theatrical performance and explore Shakespeare, his stage, and his world. Working with professional Living History performers, directors, and museum staff experts and historians, campers will participate in acting exercises, scene study, language and dialect, music and dance, work with costume and material culture, and more to bring theater to life the way Shakespeare did. We will conclude our week with a magical performance for an invited audience!
Pricing
Early Bird Member Pricing (Through April 1) $285 ($560 for both theater camp weeks)
Early Bird Non-Member Pricing (Through April 1) $320 ($630 for both theater camp weeks)
Member $335 ($660 for both theater camp weeks)
Non-Member $375$740 for both weeks
Pre-registration is required for all camps. Register your camper(s) today.
For more information about Plimoth Patuxet Summer Camps, explore our FAQs, email programs@Plimoth.org, or call (508) 746-1622 x8359.
Plimoth Patuxet Summer Camps' Community Guidelines
Plimoth Patuxet Summer Camps strives to provide campers with fun, hands-on, immersive encounters with history that foster curiosity and respect for the people, places, ideas, and objects of colonial and Indigenous communities in the 17th-century. We expect all campers and camp families to behave in ways that reflect Plimoth Patuxet's core values of community, discovery, integrity, preservation, and culture.
Campers should ask questions. Our camp counselors are ready to help you find the answers.

Campers should show respect to camp counselors, museum staff and exhibits, and fellow campers by:

Using kind, thoughtful language. Use of abusive, vulgar, culturally offensive language, name-calling, or shouting in anger will not be tolerated.
Respecting personal space and bodily autonomy. We will not tolerate physical contact with others in an angry or threatening way.
Handling all camp materials and museum exhibits with care and respect for those who made it. Although not all the artifacts in our museum are from the 1600s (or earlier!) they have been made by hand and are important to us.

Campers practice personal safety by:

Staying with camp counselors at all times. Camp counselors are always at the front and back of the group when we are moving around the Museum campus.
Being mindful of other guests who are also here to enjoy the Museum exhibits.
Running only when allowed (such as recess or game time).
Not using devices or objects as weapons (including toy or reproduction weapons or knives purchased at Plimoth Patuxet Museum Shops).
Diversity and Inclusion
Plimoth Patuxet Museum values diversity and is committed to creating a welcoming and inclusive environment for all. We gladly welcome campers of all backgrounds and we strive to provide an excellent experience for all. Please contact us if you have perspective on your camper(s) that may help us support them better during camp sessions.

Plimoth Patuxet Summer Camps FAQs

Submit the online camp registration form and a representative from the Education Department will contact you to confirm your reservation. Full payment is due within two weeks of receiving an invoice via email from Plimoth Patxuet Museums' Education Department. Payment by check or credit card is preferred.

Yes! Families signing up two or more siblings for the same week(s) of camp will receive a 10% discount for each sibling after one full camp registration.

Please contact the Education Department directly at programs@plimoth.org for more information about financial aid opportunities.

Drop off begins at 8:45am. Please meet camp staff in the Accomack Building next to the Visitor Center located at 137 Warren Avenue, Plymouth, MA. Campers will be ready for pick up at 3:00pm and must be signed out with a camp staff member.

For camper safety, we require a picture ID every day, even if we know you very well! Campers may only go home with adults authorized on the registration form.

Your imagination and willingness to time travel to the 17th century!

Backpack or tote bag.

A refillable water bottle.

A lunch and snack that does not require refrigeration.

All medicine and medical supplies that will be necessary for that day.

Sun and insect protection (at your discretion: sunscreen, sun hat, bug repellent, etc.)

To ensure our campers have a one-of-a-kind, immersive experience in the 1600s, we encourage families to leave campers' cell phones, tablets, and other electronic devices at home. Camp Staff will provide pictures and videos to all camp families via a shared drive folder so you can see how much fun your camper is having throughout the week!


Depending on which camp you choose, there may be opportunities to dress in 17th-century English clothes. Campers should come prepared daily with modern street clothes.

Out of respect for Wampanoag and other Indigenous cultures, Plimoth Patuxet Summer Camps do not include dressing in regalia (traditional Indigenous clothing, accessories, creations, etc.). Regalia are deeply symbolic, significant, and often sacred garments that can convey the status, heritage, and cultural identity of the wearer. Creating and designing regalia is an important process and maintains connection with the land, waterways, and life that calls them home. If campers and their families who identify as part of an Indigenous tribe or community feel comfortable wearing or sharing these special items with fellow campers and staff, we encourage them to do so.


No. Campers should bring a lunch and snack that does not require refrigeration.

Camp continues rain or shine, and we will have plenty of hands-on activities to keep campers engaged. If weather impacts plans to visit specific living history exhibits in downtown Plymouth, such as Mayflower II, parents will be notified in advance with alternative drop off/pick up instructions. More information will be provided with the family handbook.

If for any reason you need to cancel your camp registration, you must call the Education Department within 30 days of your camp start date to apply the program fees as a credit on account for a future event. You may also choose to put your camp fees towards a museum membership.

If your child is sick, regardless of illness, or absent, you may shift your camp registration to another week or receive a credit for a future event or a Museum membership. Plimoth Patxuet Museums must be notified within 48 hours of the start of camp if a camper is unable to attend due to illness.

If your camp session is canceled or the Museum is closed due to unforeseen circumstances, all camp fees will be refunded.

If you are registered for a camp session and do not attend for any reason and do not notify Plimoth Patxuet Museums that you will not be attending at least 15 days prior to the start of your camp session, no credit or refund will be issued.

Plimoth Patuxet Summer Camps staff have degrees in education or related fields and prior experience working with children in formal and informal educational settings. Unless wearing regalia or 17th-century English clothing, all Museum staff are required to wear a name tag and staff shirt. Staff represent the Museum to the highest degree of professionalism at all times.

All Plimoth Patuxet Museum Education staff:

Complete safety and emergency training and certification in First Aid/CPR

Undergo a criminal background check/screening process

Receive on-the-job training and attend staff meetings on a regular basis

The health and safety of campers, camp families, and staff is of the utmost importance to us. All camp activities have been planned with campers' safety in mind and in accordance with the latest CDC and Massachusetts COVID-19 guidelines. As the situation continues to evolve, Plimoth Patuxet Museums will update parents about changes to the COVID-19 policies and procedures.


If Plimoth Patuxet staff or campers experience COVID-19 symptoms (see a list of symptoms below) during the camp day, they will be quarantined in the ill child area and the parent or guardian will be contacted immediately. We strongly recommend getting tested as soon as possible after symptoms start.

If the COVID-19 test is negative and the camper or staff person is well enough to participate fully in the day's activities, the staff person or camper may return to camp the following day. If symptoms persist and the camper continues to test negative for COVID-19, masks completely covering the nose and mouth are strongly recommended.

If the COVID-19 test is positive, the staff or camp family must contact the Camp Director or the Health Care Supervisor as soon as possible. The Camp Director and Health Care Consultant will compose a letter informing all parents or guardians and all staff members of the situation. In accordance with recommended CDC guidelines, the camper or staff person should quarantine for (5) days and not report to camp.

If campers or staff are exposed to COVID-19 and they are up-to-date on vaccinations, in accordance with CDC guidelines, no quarantine is needed unless they develop symptoms. The CDC recommends getting tested (5) days after the last close contact. If campers or staff are not up-to-date on their vaccinations, in accordance with CDC guidelines, campers and staff must quarantine for at least (5) days and not come to camp.

Plimoth Patuxet Museums does not currently require proof of vaccination; however, we strongly encourage vaccination for museum staff, volunteers, and interns in keeping with our policy to follow all local, state and federal recommended public health guidance.