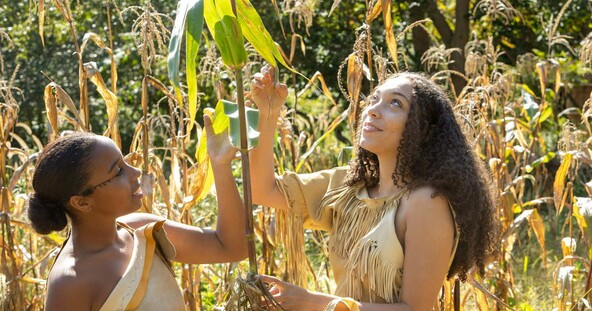 Virtual Field Trip: Wampanoag - People of the Dawn
Each People of the Dawn program is led by an Indigenous Museum Educator who uses reproduction artifacts to explore with students how Wampanoag families lived, worked, and built communities in Patuxet before and after Europeans arrived in the 16th and 17th centuries. Museum Educators will also discuss how Wampanoag and other Indigenous communities still thrive today. Students will have an opportunity to ask questions at the end of the program. People of the Dawn programs may address questions such as:
Where do Wampanoag people live?
How does the Wampanoag diet change with the seasons?
What did Wampanoag people wear in the 1600s?
How do Wampanoag children learn and what do they do for fun?
What Wampanoag traditions are still practiced today?
How did the arrival of Europeans affect Wampanoag people?
Wampanoag people respect all living beings by using every part of the animal. Please be advised that real furs, bones, and tendons are used in this program, and many of these animals were donated to the Museum by local Indigenous people for educational purposes. Some programs may also include conversations about kidnapping and enslavement of Indigenous people, the impact of European diseases on Indigenous communities and culture, and loss of loved ones.
Our Museum Educators are experienced working with students and are trained to facilitate conversations about these and other sensitive topics in age-appropriate ways and are highly trained to lead nuanced historical conversations with sensitivity and empathy. If you would like to speak to the Education Department staff about the program in more detail, please email programs@plimoth.org or call (508) 746-1622 x8359.
This program is best for learners aged 11+.

[Image Credit: Kathy Tarantola/Plimoth Patuxet Museums]