Plimoth Patuxet Museums Winter Fine Arts & Craft Fair
Multi-day event brings together artisans from around the region and beyond
From the acclaimed museum that brings the 17th century to life, comes the Winter Fine Arts & Craft Fair at Plimoth Patuxet Museums.
Taking place December 2nd and 3rd, from 10 a.m. – 4 p.m. each day, this extraordinary marketplace of fine arts and craft will be held at Plimoth Patuxet Museum's Hornblower Visitor Center in Plymouth. Amid a festive setting, attendees can meet more than 60 artisans showcasing unique and inspiring work; many sharing hands-on demonstrations. This will be a wonderful opportunity to shop for handmade gifts from a variety of independent artists and makers, just in time for the holidays. Savor the season with historically-inspired holiday food and beverages available from the Museum's Plentiful Café.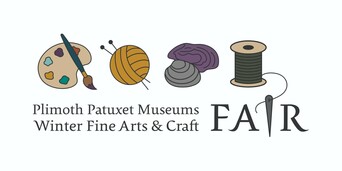 For this special event, the award-winning Mayflower Brewing Company will be at the Museum with a Winter Beer Garden featuring a variety of their microbrews. To add to the seasonal cheer, attendees can enjoy several live musical performances, hop on a merry hay ride and savor hot cocoa and s'mores by the fire. Opportunities for photos with Santa will be available both days. Gift-wrapping will be available for items purchased from the exhibitors or in the Museum's gift shops. Fairgoers of all ages will find this weekend gathering a delightful way to celebrate the season in the quintessential New England way.
"Plimoth Patuxet's Fine Arts & Craft Fair brings together an exceptional showcase of artists and their amazing works," said Ellie Donovan, the Museum's Executive Director. "We're grateful to the artists, sponsors, and volunteers who are making this possible, and we welcome everyone to join in this festive holiday event."
Lea Filson, President/CEO at See Plymouth, the official tourism office for the town and county of Plymouth, Massachusetts, is excited about drawing visitors to the region for a weekend-long, shoulder-season event. "We applaud Plimoth Patuxet Museums for the debut of this Winter Fair that is sure to become a top event in our region and beyond. Plymouth, Massachusetts has much to offer as a year-round tourism destination and we appreciate all the ways Plimoth Patuxet contributes to our community's economic and cultural enrichment."
Event sponsors include:Devaney Energy, ENE Systems, Plymouth Area Chamber of Commerce, New Day Energy, Payzant Electric, Catino Holm Realty Group, Pureflo LLC, Plymouth Center for the Arts, Cape Cod 5, Hotel 1620, Delaney & Muncey, John Carver Inn, Cape Cod Canal Chamber of Commerce, and Rob Kluin. South Shore Home Life & Style is the event's Media Partner.
100% of net proceeds from fees, ticket sales, and generous community sponsorships support the Museum's educational mission.
What: Plimoth Patuxet Museums Winter Fine Arts & Craft Fair
Where: 137 Warren Avenue, Plymouth, Massachusetts 02360
When: December 2nd & 3rd from 10:00 a.m. to 4:00 p.m.
Tickets: $5.00 admission per day. Children 12 and under are free.
For more information, please visit plimoth.org
About Plimoth Patuxet
Plimoth Patuxet is one of the Nation's foremost living history museums. Founded in 1947, the Museum creates engaging experiences of history built on thorough research about the Indigenous and European people who met along Massachusetts' historic shores of change in the 1600s. Immersive and educational encounters underscore the collaborations as well as the cultural clash and conflicts of the 17th-century people of this region. Major exhibits include the Historic Patuxet Homesite, the 17th-Century English Village, Mayflower II, and Plimoth Grist Mill. A private, 501(c)(3) not-for-profit educational institution, Plimoth Patuxet is supported by admission fees, donations, memberships, and revenue from a variety of educational programming, dining and gift shops. Plimoth Patuxet receives support from the Massachusetts Cultural Council, private foundations, corporations, and local businesses. Located less than an hour's drive south of Boston, and 15 minutes north of Cape Cod, the Museum is open daily from early spring through the Sunday after Thanksgiving. For more information, visit plimoth.org. Follow the Museum on Facebook, Instagram, and Twitter.