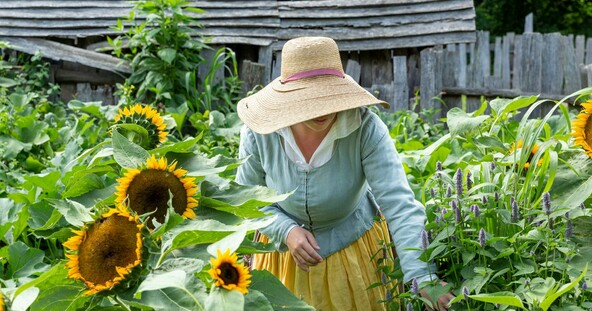 Spring Heirloom Plant Sale
Sow the seeds of history this year with Plimoth Patuxet Museums' Annual Spring Heirloom Plant Sale -- offering a bountiful selection of more than 70 types of heirloom species! Our favorite heirloom herbs, vegetables, and flowers that are grown in the 17th-Century English Village will be available for purchase, in addition to unique varieties such as Ring of Fire Sunflowers! Many of these are excellent plants for attracting butterflies, bees, hummingbirds and other wildlife to your yard. During the winter months, the Museum's staff and volunteers have been propagating a variety of plants for this fundraiser and to introduce the gardening public to the incredible variety of heirloom plants that will thrive in this region. Shop local and support the mission of this Museum!

The sale will be held in the Museum's main parking lot. Plimoth Patuxet's knowledgeable horticulture staff will be on hand to answer questions, discuss heirloom plants, and provide gardening tips. Admission to the sale is free.

[Image: Kathy Tarantola Photography]
Plant List
Subject to change
Cranberry Pole Beans (Phaseolus vulgaris)
Scarlet Runner Bean (Phaseolus vulgaris)
Succotash Bean (Phaseolus vulgaris)
Sugar Pie Pumpkin (Cucurbita pepo)
Connecticut Field Pumpkin (Cucurbita pepo)
White Scallop Squash (Cucurbita maxima)
Boston Marrow Squash (Cucurbita maxima)
Blue Hubbard Squash (Cucurbita maxima)
Acorn Squash (Cucurbita maxima)
Yellow Crookneck Squash (Cucurbita maxima)
New York early Onions (Allium cepa)
Purple Top White Globe Turnip (Brassica rapa subsp. rapa)
Bottle Gourds (Lagenaria siceraria)
King Richard Leeks (Allium porrum)
Giant Winter Leeks (Allium porrum)
Early Green Cluster Cucumbers (Cucumis sativus)
Deer Tongue Lettuce (Lactuca sativa)
Brown Dutch Lettuce (Lactuca sativa)
Early Curled Simpson Lettuce (Lactuca sativa)
Arugula (Eruca sativa)
Benefine Endive (Cichorium endivia)
Ruby Red Orach (Atriplex hortensis)
Smooth Parsley (Petroselinum crispum)
Ruby Red Chard (Beta vulgaris subsp. vulgaris)
Lucullus Swiss Chard (Beta vulgaris subsp. lucullus)
Bloomsdale Long Standing Spinach (Spinacia oleracea)
Lacinato Kale (Brassica oleracea var. sabellica)
Corn salad (Cornsalad) (Valeriana locusta)
Green Glaze Collards (Colewort) (Crambe cordifolia)
Early Round Dutch Cabbage (Brassica oleracea var. capitata)
Honey Rock Cantaloupe (cucumis melo)
Sugar Baby Watermelon (Citrullus lanatus)

Chicory (Cichorium intybus)
Sunset Mix Calendula (Calendula officinalis)
Munstead English Lavender (Lavandula angustifolia)
Dianthus, La France (Dianthus caryophyllus)
Anise Hyssop (Agastache foeniculum)
Hyssop (Hyssop officinalis)
Borage (Borago officinalis)
European Columbine (Aquilegia vulgaris)
European Feverfew (Tanacetum parthenium)
Angelica (Angelica archangelica)
Hollyhocks, Single (Alcea rosea)
Sage (Salvia officinalis)
Rosemary (Salvia rosmarinus)
Thyme (Thymus vulgaris)
Wallflowers (Erysimum cheiri)
Red Corn Poppy (Papaver somniferum)
House Leek (Hens and Chicks) (Sempervivum tectorum)
Basil (Ocimum bacilimum)
Fennel (Foeniculum vulgare)
Dill (Anethum graveolens)
Lovage (Levisticum officinale)
Clary Sage (Salvia sclarea)
Betony (Stachys officinalis)
Annual Blue Flax (Plant Sale) (Linum usitatissimum)
German Chamomile (Matricaria recutita)
Horehound (Marrubium vulgare)
Tansy (Tanacetum vulgare)
White Yarrow (Achillea millefolium)
Agrimony (Agrimonia eupatorium)
Centaury (Centaurium erythraea)
Mugwort (Artemisia eupatorium)
Salad Burnet (Sanguisorba minor)
Wormwood (Artemisia absinthium)
Violets (Viola)
Celandine, Greater (Chelidonium majus)
Comfrey (Symphytum officinale)
Marjoram (Origanum majorana)
Marshmallow (Althaea officinalis)
Elecampane (Inula helenium)
Catmint (Nepeta racemosa)
Lady's Bedstraw (Galium verum)
Rue (Ruta graveolens)
Valerian (Valeriana officinalis)
Summer Savory (Satureja hortensis)
Winter Savory (Satureja montana)
Cowslip (Primula veris)
Costmary (Tanacetum balsamita)
Blessed Thistle (Cnicus benedictus)
Tobacco (Nicotiana rustica)
Native Sunflowers (Helianthus)
Butterfly Weed (Asclepias tuberosa)

Cherokee Purple
Brandywine
Amish Paste
Valencia
Matt's Wild Cherry

Heirloom Chocolate Bell pepper
Red Hot Cherry Pepper
California Wonder (Green - Red)
Tolli's Sweet Italian Pepper
Aji Lemon Drop Peruvian Chili Pepper

Lemon Queen Sunflower
Ring of Fire Sunflower
Earthwalker Sunflower
Moonshine Sunflower
Chocolate Sunflower
Pricing:
3 pack $2
6 Pack $4
4" pots $4
Mixed herb planters $7
Large perennials $8