You Are The Historian: Investigating the First Thanksgiving Makes Historical Debut
Plimoth Patuxet Museums' interactive online resources provide thought-stirring illumination of a rich and nuanced early history
Plimoth Patuxet Museums announced today a significant expansion of its popular web-based resource for teachers and students – You Are The Historian: Investigating the First Thanksgiving. In the game, players take on the role of a student reporter who receives an unexpected message from the historic 1621 harvest feast, known today as "the First Thanksgiving." With guidance from a trusted teacher and riddles from a mysterious tipster, players travel through time to complete challenges, gather evidence, and decode primary sources to determine what really happened at the well-known celebration.
"Students absolutely loved the game itself," wrote a third-grade teacher from the Aquinnah Wampanoag community. "It was interactive, easy for them to navigate, and they showed excitement in the fact that they were learning from an organization that values the voices of Indigenous peoples."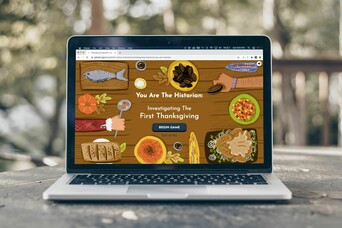 You Are The Historian is a carefully curated tool that will enable educators to teach inclusive early American history. Originally launched in 2002, the game was enjoyed by thousands of learners for over 20 years. "When the Museum​​ learned the hosting software would be obsolete by the fall of 2020, we knew we couldn't lose this popular and important resource," said Hilary Goodnow, the Museum's Director of Education and Community Outreach. With funding support from the Institute of Museum and Library Services (IMLS), Goodnow brought together a team of experts to integrate the best features of the original game with new research to reflect changes in historical interpretation and revised state and national social studies standards.
Experienced designers from FableVision Studios, a multi-media production company, as well as Museum educators, historians, and knowledge keepers from the Mashpee, Aquinnah, and Herring Pond Wampanoag communities collaborated on the game's design, scripts, and evaluations to better support educators' inclusion of these changing histories in their classrooms. Working with Dative – Cape Cod's leading website design and development studio – Plimoth Patuxet also produced a custom web solution to deliver and enhance access to learning resources.
"As a member of the Herring Pond Wampanoag Tribal community, I have actively participated in a growing body of research that is piecing together the history and culture of the Native people who have lived in this region for thousands of years," said Melissa Ferretti, Tribal Chairwoman for the Herring Pond Wampanoag, and member of the project team. "The nature of this work is rapidly changing our understanding and interpretation of Native customs and traditions as well as 17th-century history. With this in mind, You Are The Historian is an appropriate mechanism to get this important information out into the public and used across the country."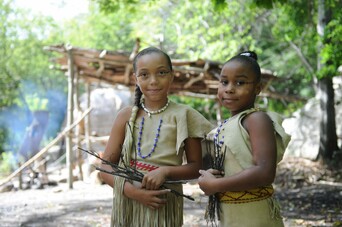 In addition to the revised game, the You Are The Historian team developed an accompanying online curriculum hosted on plimoth.org that allows teachers, students, and lifelong learners to gain a better understanding of this rich, varied, and complex period in history. The curriculum, which can be used with or without the game, features curated sets of primary sources as well as ideas for classroom use. Engaging a broad range of primary sources including oral histories, artistic creations, archaeological material, and written documents, the new curriculum reflects the different ways communities record and teach their histories. Each primary source set includes essential questions, discussion prompts, supplemental media, and activities to support engagement at multiple grade levels.
After using the game in her classroom, a 7th-grade teacher from New York City public schools commented: "An important part of history education is making scholarship accessible to the public, and Plimoth Patuxet's work with teachers excels at crafting these connections between a more accurate retelling of history and schools."
You Are The Historian: Investigating the First Thanksgiving focuses primarily on events leading up to the 1621 harvest feast – known today as "the First Thanksgiving" – while also putting the events in a broader historical context to explore how historians' interpretation of the early years of Patuxet and Plymouth Colony has changed over time. The new resources also expand upon the role of Indigenous culture in the context of early American history by examining cultural elements such as housing, food, clothing, and lifeways. This suite of online resources will enable Plimoth Patuxet Museums to more effectively meet the significant demand for interpretive content and expand its reach beyond those who can physically visit the Museum. Additionally, it enables the Museum to present learning resources in a variety of formats, and to accommodate different learning styles and audiences.
Goodnow is grateful for the collaborative efforts that led to the completion of You Are The Historian: Investigating the First Thanksgiving: "It's been a privilege to learn from and work with so many veteran Indigenous and non-Native educators, historians and experts who share our goals of encouraging nuanced, empathetic, and primary source-driven explorations of the past. Generations of scholarship are represented here, and the many contributors to this project helped shape the Museum's understanding and interpretation of Wampanoag and Indigenous history over the last half-century. It seems fitting, then, that this project's culmination coincides with the milestone 50th anniversary celebration of the Museum's Wampanoag Indigenous Program."
"At Plimoth Patuxet Museums, we realize that experiences with history take many forms," said Ellie Donovan, the Museum's Executive Director. "You Are The Historian: Investigating the First Thanksgiving is an innovative way to deliver our educational mission to diverse audiences and ignite the discovery of new perspectives on the remarkable world of the 17th century. The past is history, but what we make of it can inspire the future."
About Plimoth Patuxet
Plimoth Patuxet is one of the Nation's foremost living history museums. Founded in 1947, the Museum creates engaging experiences of history built on thorough research about the Indigenous and European people who met along Massachusetts' historic shores of change in the 1600s. Immersive and educational encounters underscore the collaborations as well as the cultural clash and conflicts of the 17th-century people of this region. Major exhibits include the Historic Patuxet Homesite, the 17th-Century English Village, Mayflower II, and Plimoth Grist Mill. A private, 501(c)(3) not-for-profit educational institution, Plimoth Patuxet is supported by admission fees, donations, memberships, and revenue from a variety of educational programming, dining and gift shops. Plimoth Patuxet receives support from the Massachusetts Cultural Council, private foundations, corporations, and local businesses. Located less than an hour's drive south of Boston, and 15 minutes north of Cape Cod, the Museum is open daily from early spring through the Sunday after Thanksgiving. For more information, visit plimoth.org. Follow the Museum on Facebook, Instagram, and Twitter.
About the Institute of Museum and Library Services
The Institute of Museum and Library Services is the primary source of federal support for the nation's libraries and museums. We advance, support, and empower America's museums, libraries, and related organizations through grantmaking, research, and policy development. IMLS envisions a nation where individuals and communities have access to museums and libraries to learn from and be inspired by the trusted information, ideas, and stories they contain about our diverse natural and cultural heritage. To learn more, visit www.imls.gov and follow us on Facebook and Twitter.