Celebrating Mayflower II's Sapphire Jubilee
Mayflower II, Plimoth Patuxet's full-scale reproduction of the original Mayflower, is riding a wave of celebration this year. June 13, 2022 marks 65 years since the iconic ship, national treasure, and beloved symbol of freedom crossed the Atlantic in 1957, arriving in the very harbor where the Pilgrims landed in 1620. In June, the Museum commemorated Mayflower II's major milestone with events and activities that spotlight the ship's history, maritime heritage and importance, and fill her sails with fanfare and celebrations.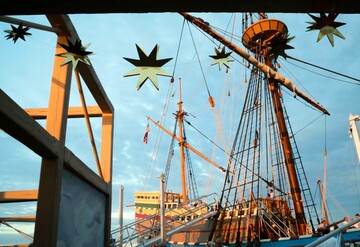 Hers was the Voyage that Made a Nation® and changed the world. The most famous émigrés in recorded history arrived aboard the Mayflower in 1620. With them came the ideas of self-government, freedom of religion and an entrepreneurial spirit. Of the thousands of ships that made the transatlantic crossing during the Colonial era, she is the ship we remember. Today, Mayflower II embodies this history.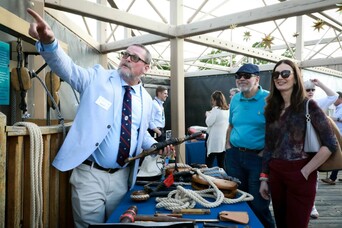 Her Sapphire Jubilee

On Saturday, June 11 Plimoth Patuxet gathered with supporters and friends to celebrate Mayflower II's Sapphire Jubilee with festive libations and delectable fare at the Seaside Soirée! Patrons enjoyed the evening with nostalgia in their sails as they explored a pop-up exhibit of Mayflower II 1957 memorabilia—rarely on public view—while enjoying maritime-themed pop classics from the past six and a half decades.
Commemorating Her Arrival

In honor of Mayflower II's 65th anniversary sapphire jubilee, a special commemorative and celebratory ceremony was observed on June 13, 2022 at the State Pier, Pilgrim Memorial State Park on the Plymouth waterfront. The ceremony began with a presentation of colors by the Plymouth VFW, followed by a keynote address from the British Consul General to New England, Dr. Peter Abbott. The event recognized Mayflower II's builders and the 1957 crew with a special bell-ringing and wreath-laying led by Mayflower II's Captain Whit Perry.

To learn more about Mayflower II and her maiden 1957 voyage, click here.