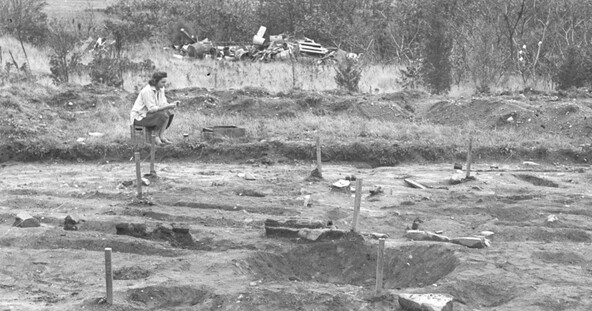 Winslow Site
The Landscape

The Winslow Site is located in Marshfield, Massachusetts.
Site Overview
The Winslow archaeological site, also known as C-2, is a mid- to late-17th century house and attached dairy where Josiah and Penelope Winslow (nee Pelham), their children, extended family members, indentured servants, and laborers lived and worked. The Winslow site collection contains over 24,000 objects, and is composed of artifacts that span thousands of years of occupation. The majority of the 17th-century colonial artifacts reflect a large and wealthy colonial household and agricultural estate (i.e. recovered architectural materials, window glass, brass horse hardware, ceramics, etc.). There is also a sizable number of Indigenous creations that include stone tools, projectile points, pottery, etc., and a few repurposed creations that may reflect early contact-era cultural interaction.

[Above photo captions: Photo 1: Harry Hornblower and the Harvard Excavators Club digging at the Winslow Site in Marshfield in 1941. On the right of the photograph is Harry Hornblower standing next to the tripod camera, demonstrating the early use of photography in archaeological research. (Archaeological Files, Series 2: C2 Winslow Site). Photo 2: View of the 1947 excavation of the Winslow Site, resumed after WWII. In the top left of the photograph sits Adelaide Kendall Bullen, one of the first female archaeologists in Massachusetts. Her surviving field notes and profile drawings are crucial to the understanding of the site. (Archaeological Files, Series 2: C2 Winslow Site).]
Excavation History
The site was first excavated in 1941 by Harry Hornblower and the Harvard Excavators' Club, who at first believed they were excavating the house of Governor Edward Winslow. The excavations of the site were interrupted by WWII but resumed in 1947 with Ripley Bullen (Peabody Andover) leading a new crew. These later excavations revealed that the house and colonial artifacts were from the latter half of the 17th century, so the house probably belonged to Edward's son, Josiah, and his family. In the 1970s, James Deetz, associate director of Plimoth Patuxet Museums, and his students returned to excavate at the site.
[Above photo captions: Photo 1: A whistle found at the Winslow Site. It is etched with a roulette design and has the initials "EW" incised on the mouth piece, likely for Elizabeth Winslow. (Object ID: C2.0000.216). Photo 2: A copper alloy stylus used to write in a wax tablet (Object ID: C2.0590.01).]
Interested in Learning More?
Please contact us by email at collections@plimoth.org with all inquiries and research requests.