Transformational Gifts, Unforgettable Experiences, and Objects to Behold in Support of Mayflower II
It was the Voyage that Made a Nation® and changed the world. The most famous émigrés in recorded history arrived aboard the Mayflower in 1620. With them came the ideas of self-government, freedom of religion and an entrepreneurial spirit. That history is the focus of Mayflower II's educational mission. Plimoth Patuxet relies on the generosity of individuals like you to keep that mission alive.

To donate or learn more about the following unique giving opportunities, please contact: Michelle Cartwright Soverino, Associate Director of Development by email at msoverino@plimoth.org, or by phone at (508) 746-1622 x8214.

The Mayflower II Wooden Heart ($100)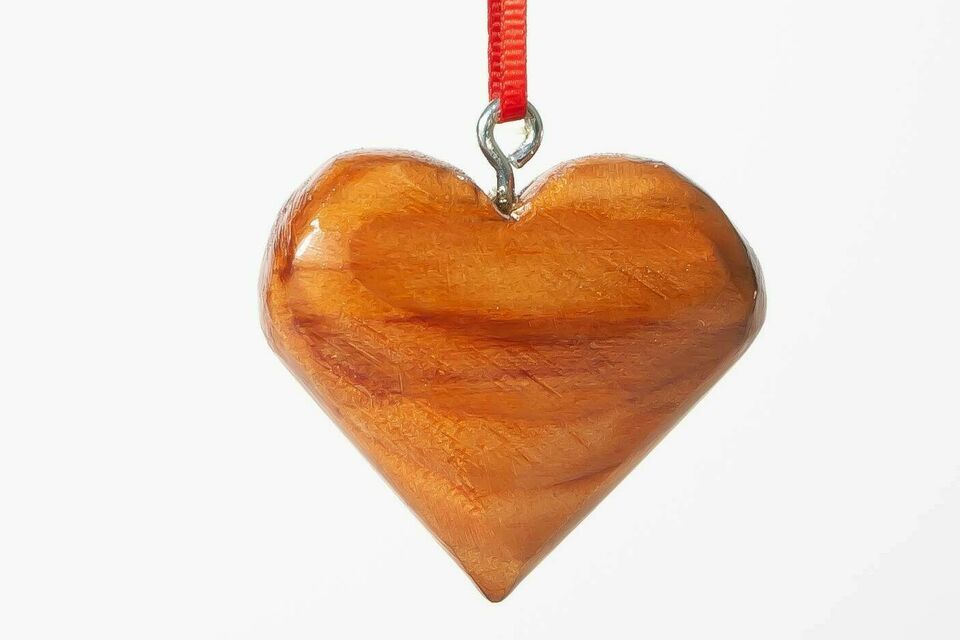 The Mayflower II Print ($100)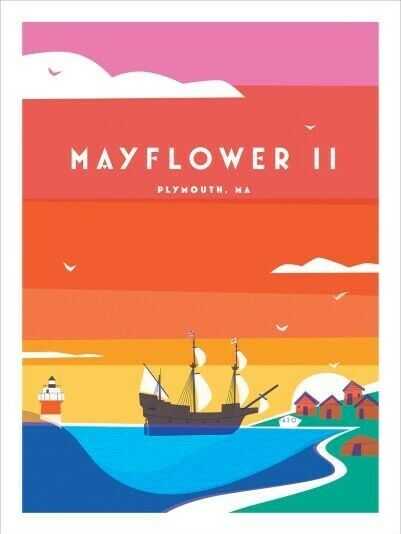 The Mayflower II Sapphire Jubilee Enamel Pin ($100)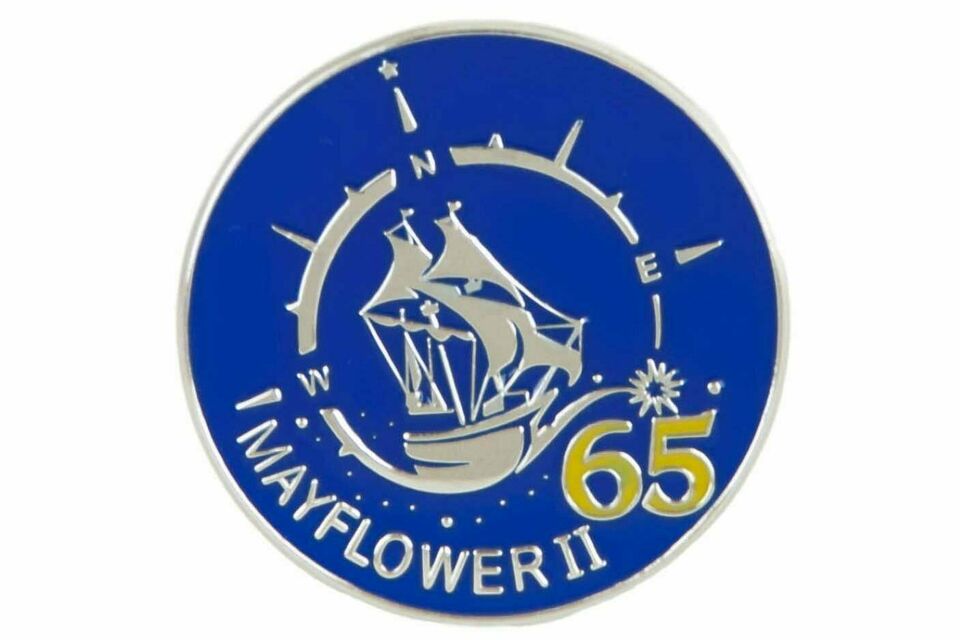 The Mayflower Sterling Silver Pendant ($1,000)
Cast in sterling silver by the lost wax process and hand-polished to a gleaming finish, the Mayflower under full sail is captured in beautiful detail. Encircled by a compass set with semi-precious gemstones at the four points, this lovely pendant is sure to be a treasured piece of jewelry to pass down to children and grandchildren.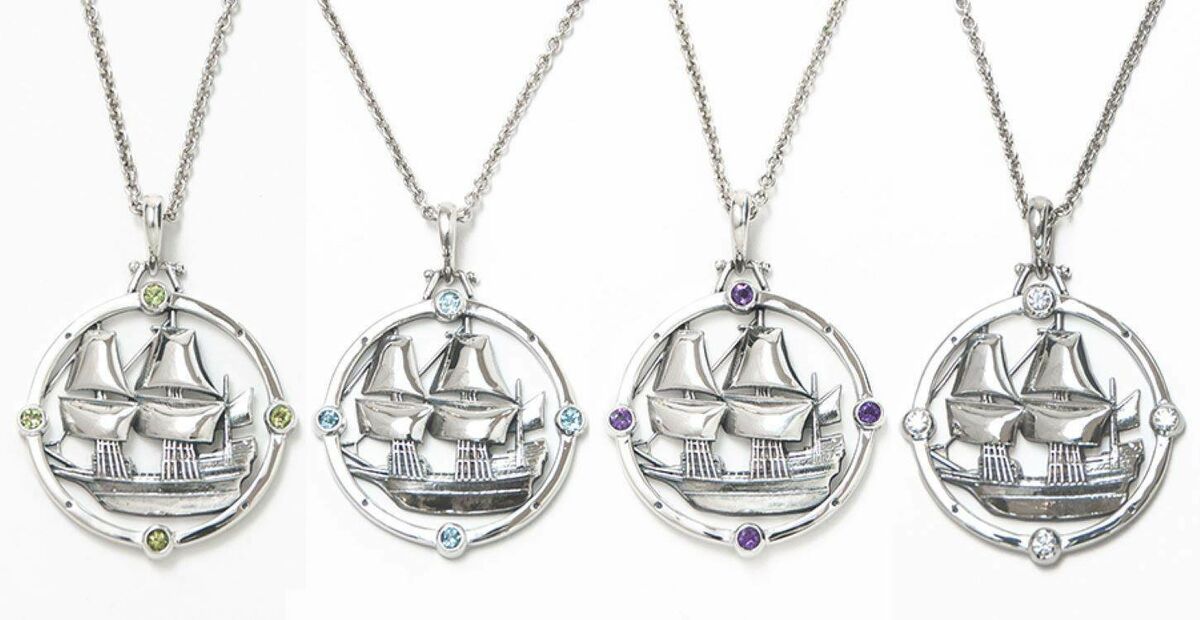 In the 17th century, celestial navigation was vital to a safe and successful voyage. The glittering jewels represent bright stars to help steer your own course through life. Made with pride in Massachusetts, 100% of net proceeds support Mayflower II's educational mission and recent restoration. Available with peridot, blue topaz, amethyst, or cubic zirconia—all the shades of the ocean—while supplies last. Pendants can be specially ordered with the stones of your choice for an additional fee. This is an amazing gift for anyone who loves Mayflower or wooden sailing ships in general.
Mayflower II Tribute Bell ($1,000)
Going, Going, Gong! Own a Piece of Mayflower II History!
Fewer than 16 of these bells are still available. Created by the world-renowned bell makers, The Verdin Company, each bell is made from the same bronze as the ship's bell cast in 2019 and installed on the ship. The tribute bells feature the same mayflower design as the ship's bell.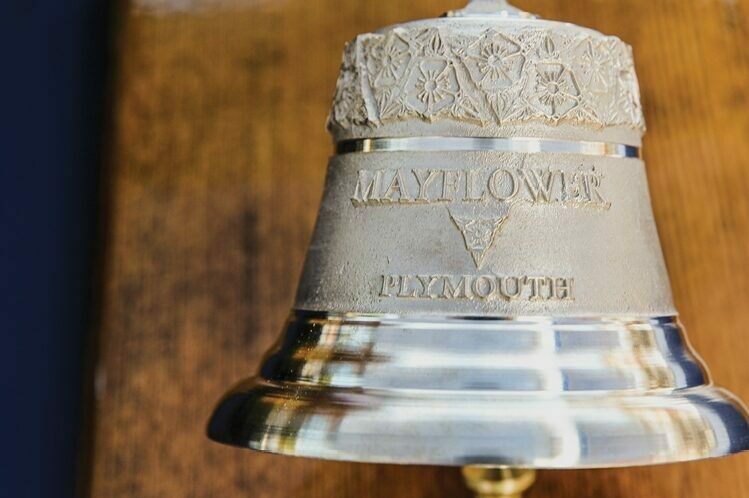 The Shallop Sail ($25,000)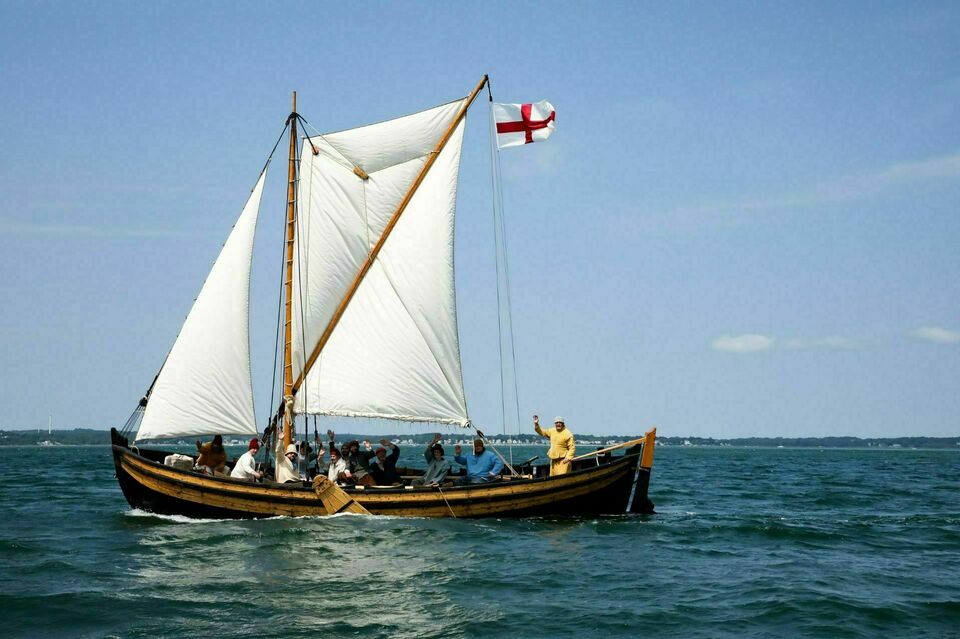 Join the Captain of Mayflower II, Whit Perry, for an evening tour of Plymouth Harbor in the newly restored Fuller Shallop. In 1620, the Mayflower was anchored offshore and the Pilgrims boarded the shallop for the last leg of their journey to America. After your shallop adventure, a delicious New England lobster dinner will be served dockside along with refreshing cocktails after enjoying a private tour of Mayflower II.
The Shallop Sail serves a group of up to 6 people. Date to be mutually agreed. Weather dependent, so alternate dates will be available if needed.

The Mayflower Adventure ($150,000)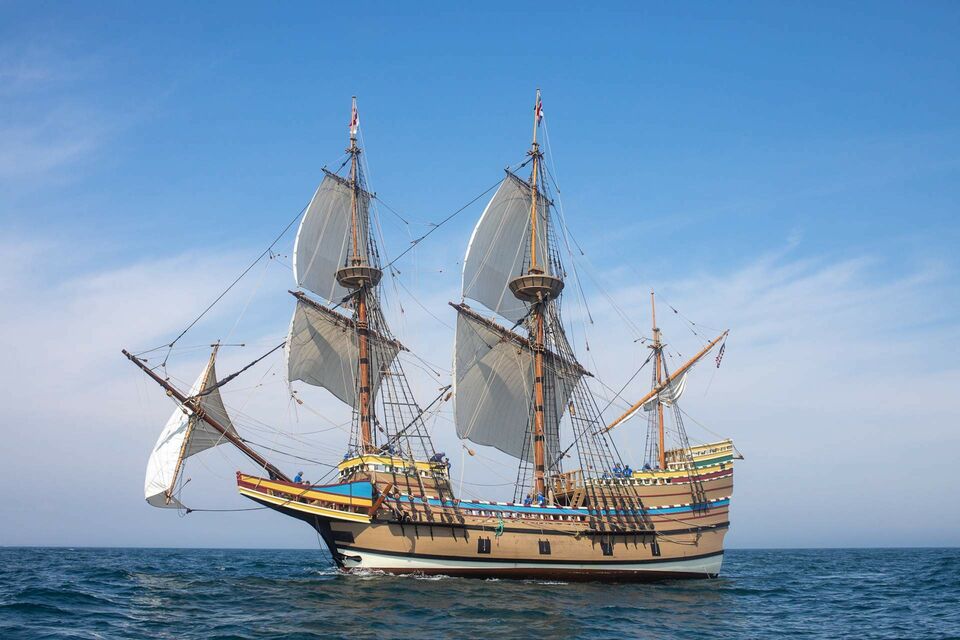 Sail the Nation's most beloved Tall Ship! Plimoth Patuxet has charted a course for you and up to twenty-five friends or family members to sail aboard Mayflower II's historic decks out on beautiful Cape Cod Bay. On a date to be agreed with Mayflower II Captain Whit Perry, you'll board the ship in Plymouth Harbor. After being towed out of the harbor the crew will hoist the sails and catch the breeze. This is a rare opportunity and thrilling maritime adventure that only a handful of people have experienced—sailing on historic Mayflower II!
In addition to the sail, you will receive the following commemorative items:

The Mayflower Compact
An original piece of artwork, made in Massachusetts, this is an extremely limited edition. Only three were made and one is now in a private collection. It is an exquisite copy of the Mayflower Compact in majestic calligraphy done completely by hand. The artwork also features an original hand-painted watercolor of the Mayflower. This beautiful collector's item was commissioned by Plimoth Patuxet and available exclusively with this Mayflower Adventure package.
Mayflower II Tribute Bell
A smaller version of the bell created for Mayflower II, these beautiful, hand-cast bells are mounted on wood from the ship's restoration. Cast in solid bronze, the clear melodious sound will remind you of summers by the sea.
Mayflower II Heart
Made from wood reclaimed from Mayflower II during her restoration, these limited edition, hand-carved hearts are a beautiful keepsake.