Plimoth Patuxet Museums Celebrates 50th Anniversary of Wampanoag Indigenous Program
America's Acclaimed Living History Museum Honors the Past and Looks Toward a Vibrant Future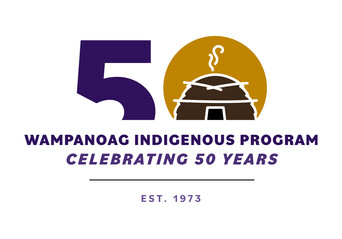 This year, Plimoth Patuxet Museums marks a milestone anniversary – celebrating 50 years of its Wampanoag Indigenous Program. In 1973, at a time when few American museums incorporated Indigenous voices in their interpretation, the Museum began working directly with local Native people to incorporate Indigenous perspectives into its exhibits and programs.
"We're celebrating all that has been achieved over the past half-century in researching and preserving the history, heritage, and lifeways of the Wampanoag and other First People of this region. The engaging educational experiences, exhibits, and thought-stirring conversations this Museum provides reflect our continuing commitment to inclusivity in telling the complex, interwoven stories of the people who lived along Massachusetts' historic shores 400 years ago, and still live here today," said Ellie Donovan, Plimoth Patuxet Museums Executive Director.
The Historic Patuxet Homesite is central to Plimoth Patuxet's educational mission. At this exhibit along the banks of the Eel River, visitors can step inside a wetu (house), explore the making of a mishoon (dugout canoe), and visit the cooking arbor to see meals being prepared over the fire. The Homesite features a garden and other seasonal demonstrations and exhibits that provide an evocative environment.
Malissa Costa, Manager of the Historic Patuxet Homesite and member of the Mashpee Wampanoag Tribe, regards this exhibit as an engaging place for sharing history, culture, and lifeways with guests. "Like so many others from my community who have worked as culture keepers in this living exhibit, I have the opportunity to share insights of the past and present, clarify common misperceptions, dispel stereotypes, and provide a more balanced history," said Costa. "As people make their way through the exhibit, conversations emerge that foster understanding."
Millions of students in the past 50 years have enjoyed learning about Wampanoag history at the Museum, in classrooms, and online. In honor of this celebratory anniversary, Plimoth Patuxet is planning a slate of events and activities that reflect the Museum's ongoing commitment to preserving traditional lifeways through educational programs.
Brad Lopes (Aquinnah Wampanoag), is the Museum's Director of Wampanoag and Indigenous Interpretation and Training. "Plimoth Patuxet is dedicated to inclusivity in its interpretation so that visitors can experience a deeper understanding of the history of this region's Indigenous people," Lopes said, "The 50th anniversary is a significant milestone for the visionaries and trailblazers that shaped this initiative; it's also an opportunity to build a bridge to the future."
Generations of Indigenous people have had a role in envisioning and building the Museum's Wampanoag exhibit and programs, giving visitors new perspectives on the history and traditions of the Wampanoag and other Indigenous people of this region. Cultural knowledge, scholarship and traditional skills for the program came from many people including these thought leaders in the early 1970s: Ella Sekatau (Narragansett), Nanepashmet (Assonet Wampanoag), Helen Attaquin (Aquinnah Wampanoag), and Linda Coombs (Aquinnah Wampanoag).
The Museum is currently fundraising for two new buildings and renovations to the Homesite exhibit. This exciting project, "A Bridge to the Future," is a combined infrastructure-interpretive initiative to advance the educational and cultural mission of the Indigenous program. A new exhibition building featuring an amphitheater will take visitors from the traditional environment of the Historic Patuxet Homesite to the present-day. This new building will enable the staff, as well as a variety of guest speakers, performers, scholars, storytellers and artisans, to share the stories of profound change and cultural persistence of the Indigenous people of the region known today as New England. Investment in this essential building is an institutional priority as the Museum strives to ensure an inclusive, engaging experience for all.
To learn more about this new project and ways to support its completion, https://plimoth.org/give/ways-to-give/the-new-indigenous-programs-building.
For more information about the 50th anniversary, visit https://plimoth.org/events. Be sure to follow Plimoth Patuxet on Facebook, Twitter, Instagram to see glimpses from the archives highlighting the Museum's history and the many local, national, and international people who have made the 50 years of the program a success.
Plimoth Patuxet Museums encourages Indigenous peoples from across the region to become involved at the Museum, including an opportunity to help with the restoration of the Museum's nuhshwetu this May. For more information, contact Brad Lopes at blopes@plimoth.org. "Sisters and brothers, nieces and nephews, aunts and uncles, elders and children, come join me in being part of this exceptional opportunity to learn more about the process and pass this lifeways skill along to our future generations," said Lopes.

About Plimoth Patuxet
Through powerful personal experiences of history, Plimoth Patuxet tells the stories of the Wampanoag people and the English colonists who created a new society – in collaboration and in conflict – in the 1600s. Major exhibits include Mayflower, the historic Patuxet Wampanoag Homesite, the 17th-Century English Village, and the Plimoth Grist Mill. Located less than an hour's drive south of Boston, and 15 minutes north of Cape Cod, the Museum is open daily from 9 a.m. to 5 p.m., seven days a week. A private, 501(c)(3) not-for-profit educational institution, the Museum is supported by admission fees, donations, memberships, and revenue from a variety of educational programming, dining and gift shops. Plimoth Patuxet is a Smithsonian Institution Affiliate and receives support from the Massachusetts Cultural Council, private foundations, corporations, and local businesses. For more information, visit www.plimoth.org. Follow the Museum on Facebook, Instagram, and Twitter and Mayflower on Facebook and Instagram.