Celebrating 75 Years
On October 15, 2022, Plimoth Patuxet marked our 75th anniversary with a celebratory program, An Evening with David Brooks, featuring the best-selling author who delivered a keynote address. It was a most memorable evening at the Museum commemorating seven and a half decades of living history. Plimoth Patuxet is grateful to our patrons and corporate sponsors for their inspiriting support of the evening and the Museum's educational mission.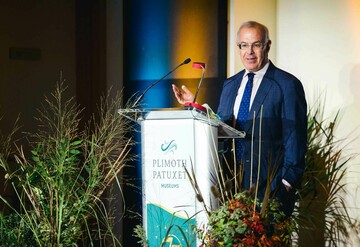 An Evening with David Brooks

Patrons and friends of Plimoth Patuxet gathered at the Hornblower Visitor Center for An Evening with David Brooks in support of the Museum's educational mission. The celebration's program featured an exemplary philanthropist, an inspiring humanitarian, a thought-stirring journalists, and two very talented chefs.

Martha S. Mugar, a longtime trustee and benefactor of Plimoth Patuxet, was presented with a Citation from Massachusetts Governor Charles Baker and Lieutenant Governor Karyn Polito. The citation recognized Ms. Mugar's dedication and decades of distinguished service to various non-profit boards, and her far-sighted philanthropy that has supported many cultural and educational organizations which seek to improve lives across The Commonwealth.


The Evening's Program


Event Chair, Martha S. Mugar, has been a trustee and benefactor of Plimoth Patuxet Museums since 2005. Her pioneering vision and unwavering support has charted the course for transformational projects in the advancement of the Museum's educational mission.

Jared Bowen, GBH Arts Editor, is the Emmy award-winning host of the weekly television series, Open Studio and a Special Correspondent for the PBS NewsHour, was Host and Emcee of the evening. Bowen has been a thoughtful supporter of Plimoth Patuxet Museum, joining the organization for milestones such as the launch of Mayflower II during her recent restoration project.
Rose Styron is a poet, journalist, translator and international human rights activist. She has published four volumes of poetry and has traveled widely for Amnesty International and other human rights organizations. Styron presented David Brooks with Plimoth Patuxet's Living History Award for excellence in journalism.
Seasonally and historically-inspired cuisine by James Beard Finalist Chef Will Gilson, Puritan & Co., and Chef Ramon Rosa, Plentiful Events & Catering was enjoyed during a special dinner to thank the evening's Hosts and Sponsors following David Brooks's keynote address. Though Chef Will Gilson was unable to join the gathering that night, he worked closely with Chef Ramon Rosa, who received a round of applause following dinner service in the Museum's Gainsborough Hall.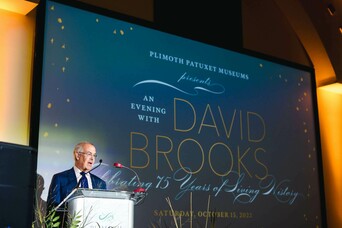 "I now think good character is a by-product of giving yourself away. You love things that are worthy of love. You surrender to a community or cause, make promises to other people, build a thick jungle of loving attachments, lose yourself in the daily act of serving others as they lose themselves in the daily acts of serving you. Character is a good thing to have, and there's a lot to be learned on the road to character. But there's a better thing to have—moral joy." - David Brooks, The Second Mountain: The Quest for a Moral Life
A Taste of Living History
In preparation for the evening, celebrity chefs Will Gilson and Ramon Rosa spent a day on Plimoth Patuxet's living history sites, stopping by the Museum's Patuxet Homesite to savor thought-stirring conversation about Indigenous foodways with our culture keepers in the cooking arbor.
The chefs then visited the 17th-Century English Village where they gathered herbs and other fresh ingredients to add to a bountiful table of fare in Brewster House. Their collaborative moment of cooking by that hearth drew inspiration for the menu they created for guests attending An Evening With David Brooks!
A Memorable Evening at the Museum
Photography by Jason Corey, and property of Plimoth Patuxet Museums.
An Evening with David Brooks Supporters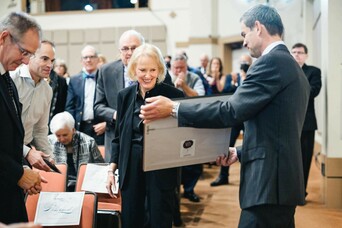 Event Chair & Visionary Sponsor
Martha S. Mugar

Host Committee
| | | |
| --- | --- | --- |
| Amory Architects | Lisa & Jono Bitting | Andrea & Steve Brodeur |
| Stewart Clifford | Lea Filson | Gale & Michael Fitzgerald |
| Lisa Pennington & David Furlow | Tony Green | Cynthia & Ted Hubbard |
| Chris & Ted Long | K. Prescott Low | Diane & Philip Olsson |
| Janet Schwartz | Cornelia Wareham | Nancy & Steve Williams |
Event Sponsors