Can't travel to us? Let Plimoth Patuxet Museums come to you!
Native and Colonial Museum teachers visit classrooms all over the country where they help students explore intertwined cultures, investigate changing landscapes, and understand 17th-century worldviews through immersive hands-on experiences.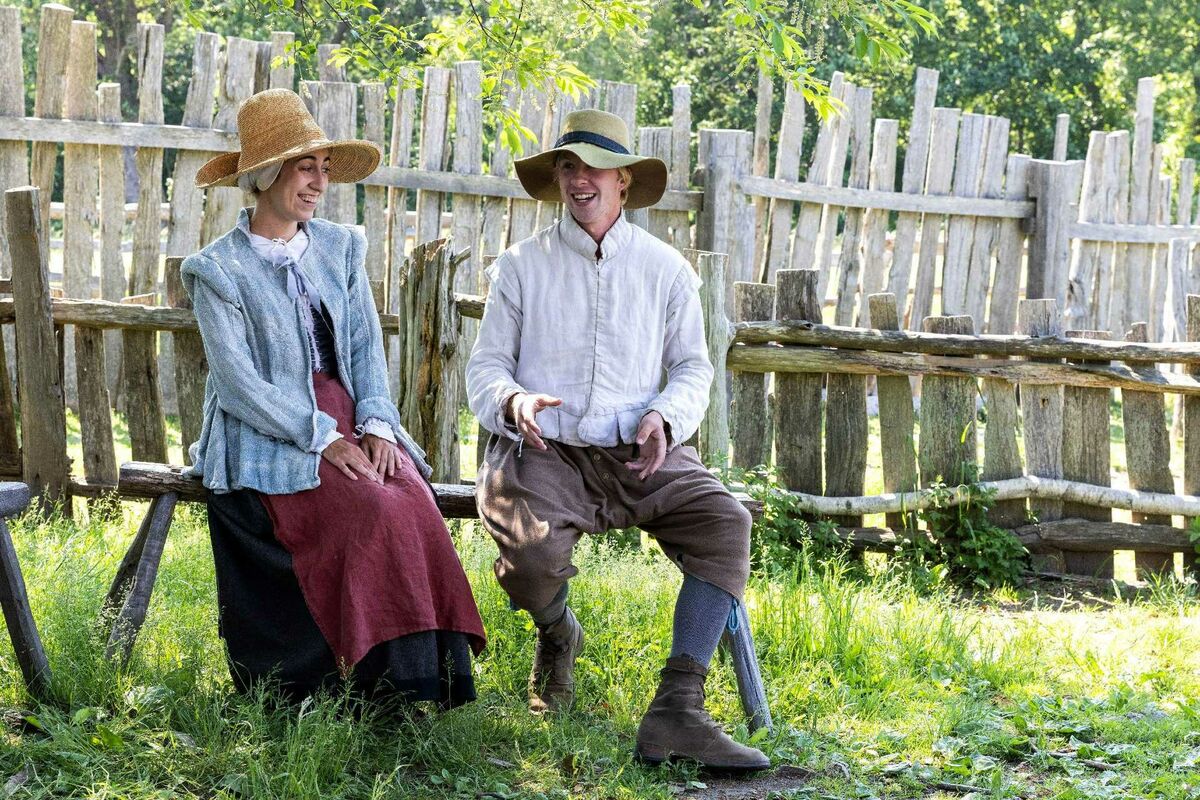 Classroom Visits
The Wampanoag Way (PreK - 2)
Our in-school classroom visits are delivered by Native museum teachers, who dress in modern clothing and speak from a modern perspective. This allows them to discuss the story of their people in past and present times. Our museum teachers will bring a variety of artifacts for students to touch and view. Each program is a one-hour presentation to one classroom.
Life in 1627 Plymouth Colony (PreK - 2)
Imagine the first Thanksgiving! Your students will learn about the feast by meeting a Pilgrim and playing with everyday objects from Pilgrim daily life.
Our Museum teacher will dress like a Pilgrim, but speak to the students from a modern perspective. The teacher will wear accurate reproduction Pilgrim clothing and will arrive with a variety of reproduction objects from colonial daily life. In this program, your Museum teacher will begin by introducing the students to Colonial artifacts and clothing, inviting comparisons to their own household objects and wardrobes in the present day. During the second half of the program, students will rotate through a series of "Pilgrim Life" play centers in small groups. Each program is a 45-minute to one-hour presentation to one classroom.
Peoples of the Dawn Land (Grades 2-5)
Learn about the daily life of the Wampanoag in the 17th century, as well as their current lives and communities. Students will gain an understanding of the connection the Wampanoag and other Native people have to Mother Earth, their seasonal way of life, and their respect for all living beings. Our Native American Museum Teacher wears modern clothing and speaks from a modern perspective so that they can discuss the story of their people in both past and present times. They will share artifacts of traditional life, such as wooden bowls and spoons, animal furs, and tools. Each program is a one-hour presentation to one classroom.
First Families: Their New Worlds and Everyday Lives (Grades 2-5)
Our Museum Teacher will portray a resident of 1627 Plimoth Colony, using their life story to frame the program. Your Museum Teacher will speak with a regional, English dialect of the 17th century and wear accurate reproduction clothing to bring the world of Pilgrims to life. Using reproduction artifacts to enhance your classroom's experience, your visitor will share the Pilgrim story from hiring Mayflower in England, through the journey and the first winter, to Thanksgiving in Plymouth. Each program is a one-hour presentation to one classroom.
Traveling Workshops
These active, hands-on, workshops focus on a lighter side of 17th-century English life. Each fun-filled program weaves historical background with plenty of hands-on exploration and activities. Workshops are led by non-costumed Museum teachers and require a large open area such as a gymnasium. Programs can be held outside, weather permitting. Please make sure to have a backup indoor space reserved.
Hands-on Wampanoag Craft (Grades 3-12)
In the 17th century, the Wampanoag people made their own toys and household implements. In this program, a Native Museum teacher will lead a craft workshop. Students will make a corn husk doll or a clay pot. While they work, students will learn about Wampanoag culture, including the significance of the raw materials, the use of the object they have made, and the roles of Wampanoag men and women - who would have made this object in the 17th century?
Music & Dance (Grades 3-12)
The Music and Dance workshop provides the opportunity for students to explore two popular forms of 17th-century entertainment: singing and dancing. After talking about the role of music and dance in the lives of 17th-century English people in general, and the Pilgrims in particular, students learn popular songs from the time and perform a country dance. (Massachusetts History and Social Science Framework: 2.7, 2.8, 3.12.)
17th-Century Games & Sports (Grades 2-12)
Hard work was the norm for families in 17th-century England and New England, but children and adults also played games and sports. Students will learn about the role of play in a 17th-century child's life by participating in popular English pastimes such as nine-pins, hoop-rolling, and telling riddles. This workshop may be held outside, weather permitting. We require an indoor space to be reserved as a backup for inclement weather. (Massachusetts History and Social Science Framework: 2.7, 2.8, 3.12.)