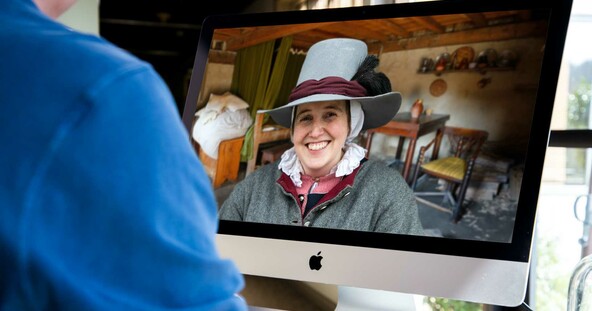 Virtual School Visits
Plimoth Patuxet Digital Classroom
We're taking Plimoth Patuxet Museums' award-winning education programs out of the 17th century and going online. Join engaging, interactive virtual workshops and thought-provoking discussions from anywhere and discover the powerful stories of people who actually lived along these shores of change 400 years ago.
Virtual Programs
Virtual Programs for Young Learners (PreK - 2nd Grade)
This special version of our popular "People of the Dawn" program is designed especially for early learners. It features Wampanoag/Algonquian traditions passed down for generations and explores Wampanoag life through reproduction artifacts and animal furs.
Virtual Programs for Elementary and Middle School

Learn about early Plymouth Colony from an actual Pilgrim in your classroom! Our museum educator will use a real person's life story to frame the one-hour program. Using reproduction artifacts to enhance your classroom's experience, your visitor will share the Pilgrim story - from why they chose to leave England, the Mayflower journey, the first winter in New England, and the 1621 harvest feast known today as "the First Thanksgiving."

An Indigenous museum educator will discuss Wampanoag people's relationship to the land, respect for all living beings, and seasonal ways of life. Students will handle traditional artifacts and animal furs and may also play a traditional game. A special version of this program is also available for grades K-2.

Students discuss the many different ways 17th-century children were educated, whether in a classroom, through an apprenticeship, or at home). Try writing with a quill pen and ink and compare it to today's writing tools. Create a personalized unique 17th-century signature to take home.

Students work in teams and use clues hidden in historic art to discover the identity of a mysterious artifact.
Virtual Programs for High School and College/University

Join an Indigenous museum educator for a unique conversation that explores 12,000 years of Wampanoag history. Discover how communities past and present have adapted and sustained their way of life amid changing natural, social, and political landscapes.
Questions?
Please contact our Education Department with any questions or to request an educational programming brochure.
programs@plimoth.org | (508) 746-1622 ×8358