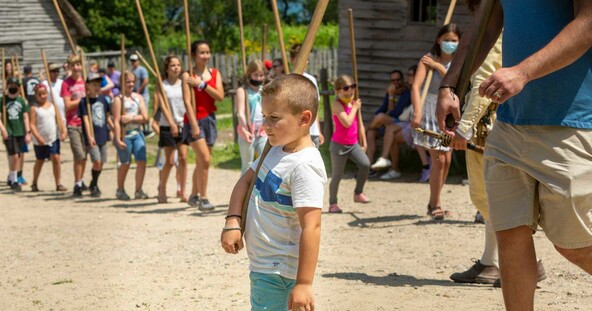 Field Trips
Fresh Air and Field Trip Fun Await You in the 17th Century! With more than 30 acres to stroll and four outdoor living history exhibits, a visit to Plimoth Patuxet Museums sparks learners' imaginations and makes history come alive.
To request information about field trip pricing and availability, please email groupsales@plimoth.org. Plimoth Patuxet offers special discounted ticket pricing for groups of 15 or more. Tour operators, please contact the Group Sales Office for travel industry terms.
Ready to Book Your Field Trip?
Planning Your Field Trip
Plimoth Patuxet is an excellent resource for educators seeking to meet requirements for state curriculum frameworks. Our inquiry-driven approach to history transforms much of the essential topical content mandated by frameworks into riveting conversations, object analysis, and first-person stories which provide a living testament to the lasting connection between past and present. Plimoth Patuxet Museums staff are skilled at weaving elements of geography, history, economics, and civics and government into the stories they tell. Studying the stories of our shared past strengthens social and emotional skills. Students understand their own life in the context of history and participate in dialogues across differences to explore how many diverse experiences and perspectives shape our past, present and future.

Massachusetts History and Social Studies Framework

While a special effort has been made to align our programs with the Massachusetts History and Social Science Frameworks, the Museum's programs and exhibits are highly relevant to national social studies standards and many state frameworks. Our educational programs and living history exhibits align best with the following curriculum topics for grades K-8: K.T3, K.T4, 1.T1, 1.T2, 2.T3, 2.T5, 3.T2-4, 4.T2-3, 5.T1, 6.T2, 8.T1, 8.T2. For grades 9-12, our programs and living history exhibits align with core knowledge goals for US History I, World History I, US Government and Politics, and Economics.

Question about how a field trip at Plimoth Patuxet can enhance your curricular goals? Contact us to learn more about our current offerings.

School, Scout, Homeschool, Youth, and Adult groups are welcome to explore Plimoth Patuxet's 130-acre campus - including our four living history exhibits, exhibit galleries, and more - at their own pace. Take a few minutes to review our updated Visitor Guide. There you'll also find answers to some of our more frequently asked questions about what to expect on our living history sites.

We have several admission options that may fit your needs. Learn more about planning your visit or contact groupsales@plimoth.org for more information.

Teacher Tip: We are busiest in June, October, and November. If you plan to Plimoth Patuxet Museums during this time, we strongly recommend providing alternative dates when booking.

Did you know that you can enhance your visit with a guided tour, a hands-on workshop, or historic dining for an additional fee? Learn more about add-on experiences.


On the day of your field trip, we recommend arriving 15 minutes before your scheduled entry time. Detailed group check-in instructions and an itinerary will be included with your group reservation. Site maps will be provided to group leaders, teachers, and chaperones upon arrival.

For the best experience, start with our 13-minute orientation film, Along the Shores of Change, located in the Henry Hornblower II Visitor Center. This film will introduce your group to the historical communities of Plymouth Colony and Patuxet as well as what to expect when they visit our Museum. Timed entry for the film is not required.

Teacher Tip: Looking for a place to eat lunch with your group? There are several designated outdoor picnic areas available. Check the site map for specific locations. We also offer delicious and fun group dining option. Learn more about group dining options.


To ensure the best experience, a 1:10 student to chaperone/teacher ratio is strongly recommended. Teachers are free and count as a chaperone.

Well prepared group leaders and chaperones are key to the success of your field trip to Plimoth Patuxet Museums. They are responsible for your students and their behavior and we are counting on them to encourage respect for the Museum's staff and exhibits. We request that group leaders and chaperones:

Stay with their designated groups at all times. This includes those adults traveling with high school-aged students.

Actively support students' thoughtful engagement with the exhibits and staff including handling and examining objects in the living history exhibits with permission and/or supervised by a Museum staff member.

Remind students to show respect to our special (and beloved!) rare breed and heirloom animals. Touching, teasing, or feeding our animals may cause unintended harm.

Plimoth Patuxet Museums is sometimes able to offer grants to qualifying schools and community organizations that meet certain needs-based requirements. Funding subject to availability. Only available for museum admission or educational program costs. Transportation and busing costs not included.
Field Trip Add-Ons: Your Field Trip Your Way
Enhance your visit with an add-on experience. Explore the carefully crafted options below to learn the ways in which you can enhance your field trip. From guided tours, to customized workshops, to themed dining experiences there's something for everyone! Lean more about ways to enhance your field trip.

Ready to Book a Field Trip?

Banner image by Kathy Tarantola Photography