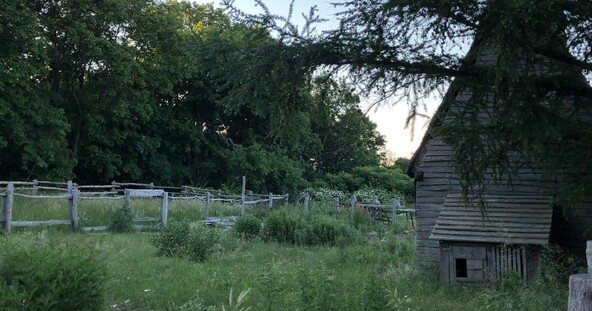 Group Overnights
Sleepover in the 17th Century! Take your experience in the 17th century to the next level!
Group Overnight Programs
Each overnight program includes museum admission, a historically-inspired meal, hands-on activities, and a nighttime visit to discover the sights, sounds, and stories of the 17th century after dark.
Scouts and Schools: Let us know how we fit into your unit or lesson plan(s) so we can tailor the activities to your needs.
Can't stay overnight? Enjoy the same program during the day! For more information about our Daytime Adventure options, email programs@plimoth.org.

Patuxet Overnight
Explore, create and learn about Wampanoag culture with an Indigenous Museum Educator. You will share a Wampanoag feast, visit a wetu (home), and learn a traditional Wampanoag art form using traditional materials and techniques to make something you can take home.
Plimoth Overnight
What was life like for a Pilgrim living in Plymouth Colony in the 1600s? After eating a colonial English supper, you will experience an English child's life by learning to write with a quill pen, playing traditional 17th-century games, and take a nighttime walk to discover the sights, sounds, smells, and stories of Plymouth Colony after dark.
Plimoth & Patuxet Overnight
Explore the lives of the people who lived here in the 17th century, both Colonial and Wampanoag. Eat a 17th-century meal featuring tastes of both cultures, play 17th-century games, create something to take home with you, and discover the sights, sounds, and stories of Plimoth and Patuxet.

Group Overnights FAQs
Arrival time is between 2:00 p.m. and 5:00 p.m., unless otherwise arranged by your group leader. After checking in at the Henry Hornblower II Visitor Center, your group will be issued wristbands and will have until 5:00 p.m. to explore the Museum's sites at your own pace. Please wear your wristbands for the duration of the program. They are your tickets!

Scheduled activities begin at 5:00 p.m. when you meet your overnight teacher in the Henry Hornblower II Visitor Center.


Our amazing education staff!

Plimoth Patuxet education staff have degrees in education or related fields and prior experience working with children in formal and informal educational settings. Unless wearing regalia or 17th-century English clothing, all Museum staff are required to wear a name tag and staff shirt. Staff represent the Museum to the highest degree of professionalism at all times.

All Plimoth Patuxet Museum Education staff:

Complete safety and emergency training and certification in First Aid/CPR

Undergo a criminal background check/screening process

Receive on-the-job training and attend staff meetings on a regular basis

You will also have a Museum Educator as an overnight host.


We offer both outdoor and indoor camping options (subject to availability). For outdoor camping, groups are required to bring their own camping gear including flame retardant tents. A fireplace at the Craft Center Pavilion may be available for your use. Bathrooms are provided in the Craft Center. For indoor camping, we strongly recommend bringing camping cots or air mattresses to ensure your comfort. A limited number of camping cots are available upon request.

You will have an overnight host available all night in the event of an emergency.


Museum Educators and Plimoth Patuxet Security staff will be on duty throughout the evening. Other emergency responders are minutes away. If you have an emergency during your sleepover, contact one of the Museum Educators or dial 911.

If you have medication that needs to be refrigerated, please let us know before your arrival. If you have any other medical concerns, please do not hesitate to contact us prior to the overnight at (508) 746-1622 x8359.

It is likely that there will be other activities going on at the Museum. Please chaperone your group at all times. Youth are not permitted to visit the Museum un-attended.


Cancellation notices must be received in writing. Notice received within 5 business days of the program date may receive a credit towards a future program.


NO alcoholic beverages will be permitted. There is NO smoking in Museum buildings or exhibits. A designated smoking area is available outside the Hornblower II Visitor Center. Violations of these policies may result in being asked to leave the Museum grounds.


The product and presentation that Plimoth Patuxet Inc., provides is copyrighted. The overnight experience cannot be recorded for use or sale. Still photography is allowed for personal use only. Commercial use must be approved by the Plimoth Patuxet Marketing Department.


Plimoth Patuxet Museums is an outdoor living history museum, and we encourage your group to bring appropriate clothing, accessories, and personal comforts to ensure your comfort and well-being during your overnight adventure. During the overnight, your group will have hands-on activities both inside our modern Museum classrooms and outdoors on our living history sites.

Here are a few things we recommend that you bring:


Your imagination and willingness to time travel to the 17th century

Flashlights

Bug spray and/or sunscreen

Reusable water bottles

Health Insurance card(s), medical ID tags/jewelry, medications and/or specialty medical supplies you may need

Please dress for the weather! We recommend bringing seasonally appropriate outerwear or a raincoat. Since we spend time indoors and outdoors, we suggest layers.

A themed dinner and modern continental breakfast are included in your overnight program. You are welcome to bring your own snacks. Participants with food allergies are welcome to bring supplemental foods. Please note: there is no refrigerator or microwave available. Please contact the Education Department with any questions about menus, food allergies, or dietary preferences.
Ready to book an overnight experience?
Contact our Education Department
programs@plimoth.org | (508) 746-1622 ×8359