All Aboard!
Visit Mayflower II, Plimoth Patuxet's full-scale reproduction of the tall ship that brought the Pilgrims to Plymouth in 1620. Listed on the National Register of Historic Places, Mayflower II is where guests learn about the journey that started a nation.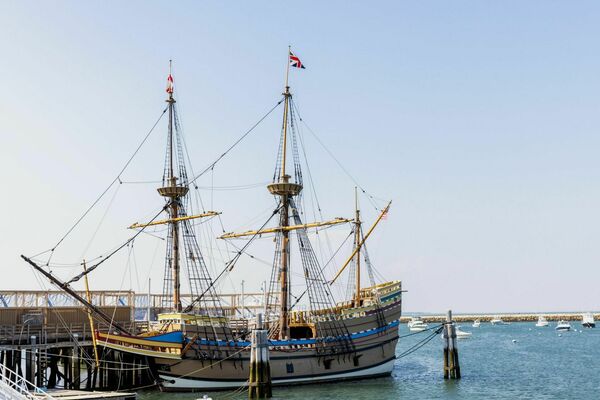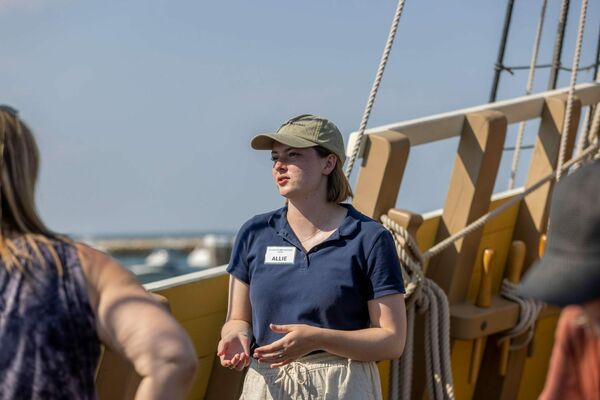 Like most people, I was immediately struck by how small the ship seemed - particularly in the 'tween decks, where the passengers were confined. How could 102 people, including three pregnant mothers, have survived more than ten weeks in a space this size?
Nathaniel Philbrick,
"At Sea with the Pilgrims: Writing About the Voyage of the Mayflower"
Plimoth Life, 2007
Frequently Asked Questions
Mayflower is a square-rigged vessel that is about 25 feet wide and 106 feet long, displacing 236 tons of water. She has four masts, including a mainmast, foremast, mizzen, and sprit, with a total of six sails. You may walk around the main deck, orlop deck, and half deck.
Mayflower is not fully accessible. People with difficulty walking should be aware that there are ramps that can be steep according to the rise and fall of the tides. On the ship, there are also several flights of stairs to climb. However, those unable to board the ship may enjoy a close-up view of Mayflower from the dock, visit the dockside exhibit area, talk to modern crewmembers, and look at photographs of the interior of the ship.
Yes, we encourage you to take photographs or use video cameras for your own use. You need not ask permission of the staff to take pictures of Mayflower. Commercial use of photographs or video is prohibited without permission from our Public Relations office.
No one knows for sure what happened to the original Mayflower. The last record of the ship was an assessment of her value in 1624. After that, she disappeared from maritime records. Several places in England claim to have a piece of the original ship, but there is no historical proof to support these claims.

Mayflower passengers lived on board anywhere from seven to nine months depending on when they joined the voyage and how soon they left the ship for shelter on land.
One of the most notable differences is the large modern staircase between the main deck and the lower decks. (In the 17th century, ladders were used). Electric lights illuminating the dark corners of the lower deck were also not standard in the 1600s! There were other minor modifications made to Mayflower to make sure that she would be more accessible, safe, and comfortable for the visiting public.