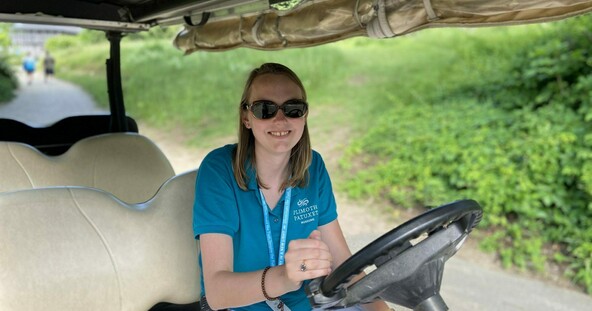 Parking & Accessibility
Parking
Parking is free. Please follow signs to our main parking lot.
Guests with official disabled or handicap placards or license plates should park in the lower parking lot. Follow signs for "Bus & Handicapped Parking." Please park in the spaces where there is an international symbol of access (wheelchair symbol).
When visiting Mayflower II, there is metered parking available along the Plymouth waterfront. See our Directions page for details.
Golf Cart Transport Assistance
We offer ride assistance from 9:30 a.m. - 4:30 p.m. for our guests with mobility issues. Our drivers can bring up to 5 guests at one time between the different living history sites at Plimoth Patuxet. Once you arrive at each site you will need to travel under your own power. When you are ready to move on to the next site you may either use your cell phone to call for assistance or ask any site staff member to call the cart for you. This free service is offered on a first call first serve basis throughout the day. On busy visitation days there may be extended wait times while our one cart is assisting other guests.
Plimoth Patuxet does not offer wheelchairs or strollers for rent. We suggest each guests bring any personal transportation with them.
Accessibility
Plimoth Patuxet is a large outdoor museum with exhibits spread out over 40 acres. While many of the re-created 17th-century buildings are accessible to our guests in wheelchairs, some of the pathways in between can be difficult. These pathways are for the most part unpaved (dirt or sand) and some have steep grades. Due to these conditions, some paths are currently not accessible by wheelchairs.
Please understand that a variety of factors such as weather conditions, the type of wheelchair that you are using, and whether or not you have someone to assist you will determine how accessible you find these pathways. Speak with a staff person at the Visitor Center regarding your particular needs. While many people with mobility disabilities are able to take advantage of all of our sites, in some instances, we will recommend that guests instead take advantage of the programs and exhibits offered in the Visitor Center.
At Plimoth Patuxet, we are working hard to provide improved access for all of our guests. We have already re-graded and stabilized the surface of most of our pathways. Over the next few years, we will continue to make further improvements. Please contact our guest services department at (508) 746-1622 ×8336 or info@plimoth.org for more information.
Please note, Mayflower II is not accessible to wheelchairs.