Eulogy of King Philip (Metacom)
Date

January 26, 1836

Material

Paper, Speech, Engraving

Author/Maker

William Apess (Pequot) (1798-1839), Illman & Pilbrow (Engraver), Paradise, John, 1783-1833 (Artist)

Source

A son of the forest. The experience of William Apes, a native of the forest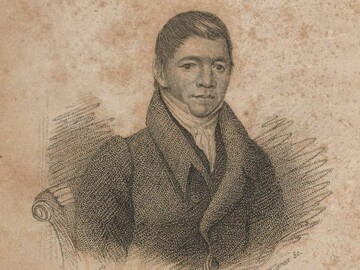 William Apess (Pequot) was a Methodist minister, veteran of the War of 1812, and a leading advocate for the Mashpee Wampanoag community's continued autonomy and self-rule in the early 1830s. In his "Eulogy on King Philip" delivered at the Odeon lecture hall in Boston in 1836, Apess drew parallels between King Philip's War (1675-16786), also called Metacom's Rebellion, and equated Metacom to George Washington in military skill, love of country, and personal honor. Appes sought to redeem Metacom as a martyr for his people and challenge early 19th century Americans' behavior towards Indigenous people as a continuation of long traditions of false promises, broken treaties, enslavement, and oppression. No 17th-century Indigenous perspectives on King Philip's War exist; however, Apess' "Eulogy" offers an alternative perspective on a war that killed 30% of the colonial population and twice as many Indigenous people. 1

Transcription
Though it is not doubted that he meant to be revenged upon his enemies; for during some time he had been cementing his countrymen together, as it appears that he had sent to all the disaffected tribes, who also had watched the movements of the corners from the New World and were as dissatisfied as Philip himself was with their proceedings.. At this council it appears that Philip made the following speech to his chiefs, counselors, and warriors:
Brothers, you see this vast country before us, which the Great Spirit gave to our fathers and us; you see the buffalo and deer that now are our support. Brothers, you see these little ones, our wives and children, who are looking to us for food and raiment; and you now see the foe before you, that they have grown insolent and bold; that all our ancient customs are disregarded; the treaties made by our fathers and us are broken, and all of us insulted; our council fires disregarded, and all the ancient customs of our fathers; our brothers murdered before our eyes, and their spirits cry to us for revenge. Brothers, these people from the unknown world will cut down our groves, spoil our hunting and planting grounds, and drive us and our children from the graves of our fathers, and our council fires, and enslave our women and children.
… but by this time you have been enabled to see that Philip's prophecy has come to pass; therefore, as a man of natural abilities, I shall pronounce im the greatest man that was in America; and so it will stand until he is proved to be the contrary.2

Who was Apess speaking to? How has this speech been tailored to its audience?
What factors had the most significant impact on relations between the English colonists and the Wampanoag people between 1621 and 1675?
Compare and contrast Rev. William Apess' and John Easton's account of Metacom's speech. How did each writer use media to communicate their ideas?
How does Rev. Apess compares Metacom (Philip) to George Washington? What does this tell us about Wampanoag and other Indigenous groups in the early 19th century?

How are these questions still being addressed today?