Excerpt from A relation of the Indyan Warr, by Mr. Easton of Rhode Island, 1675
Date

1675

Material

Paper, Engraving

Author/Maker

Metacom (Philip) (1638- 1676), John Easton (1617-1705), Franklin Benjamin Hough (1822 - 1885), Paul Revere Jr. (1734-1818) (Engraver)

Source

A Narrative of the Causes Which Led to Philip's Indian War, of 1675 and 1676, by Franklin Benjamin Hough (1858)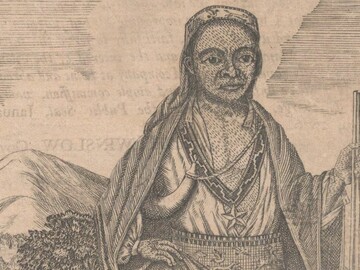 Fifty years after the establishment of an alliance between Plymouth and Pokanoket, tensions escalated between Indigenous communities throughout New England and expanding colonial settlements. Many of these centered around what one side saw as the others' failure to abide by the terms of the agreement. After Massasoit's death in 1661, his son Wamsutta (also known by the English name Alexander) became sachem of Pokanoket. Two years later, Wamsutta died suddenly after visiting the leaders of Plymouth Colony. His younger brother Metacom (also known by the English name Philip) assumed the sachemship and believed his brother had been poisoned, further escalating tensions between Pokanoket and Plymouth Colony. By 1675, relationships reached a breaking point and violence erupted across southeastern New England.
In an effort to provide an impartial account of the outbreak of what would come to be known as King Philip's War (1675-1676), Rhode Island's Deputy Governor, a Quaker named John Easton, wrote a "true relation of what I know and of reports, and my understanding concerning the beginning and progress of the war now between the English and the Indians" which was sent to the governor of New York, Sir Edmond Andros. Easton lived in the borderlands between Pokanoket, Narragansett, and Plymouth Colony, and was familiar with the complex personal and political relationships at play. He captured Metacom's perspective as he articulated the various factors that led to the violence, rooted in the events of 1621 and the agreement between his father and John Carver.

Transcription
A true relation of what I know and of reports, and my understanding concerning the beginning and progress of the war now between the English and the Indians… [Metacom (Philip)] said thay had been the first in doing good to the English, and the English the first in doing wrong, said when the English first Came their kings father was as a great man and the English as a littlle Child, he constrained other indians from rouging the English and gave them corn and showed them how to plant and was free to do them any good and had let them have a 100 times more land… nother grievance was when their kings sold land the English would say it was more than thay agreed to and a writing must be proven against all them, and some of ther kings had done wrong to sell so much … another grievance the English cattle and horses still increased that when they removed 30 miles from where English had anything to do, they could not keep their corn from being spoiled, they never being used to fence, and thought when the English bought land of them that thay would have kept their cattle upon their own land, another grievance the English were so eager to sell the Indians liquors that most of the Indians spent all in drunknes and then ravened upon the sober Indians and they did belive often did hurt the English cattle, and ther kings could not prevent it.1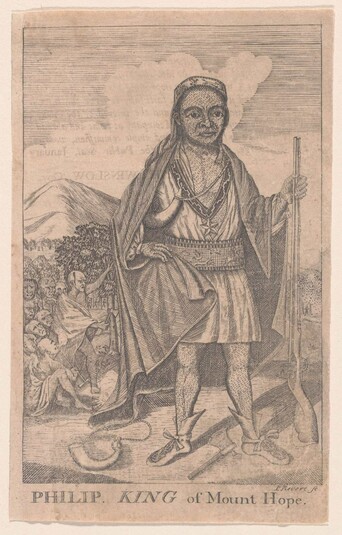 Based on Easton's writing, what are the main reasons Metacom is angry with the English colonists?

How has the relationship between Plymouth and Pokanoket changed between 1621 and 1675? What do you think caused this change?
How has Metacom's voice been tailored to its audience?

John Easton and Metacom both used words to advocate for peace and avoid violent conflict. What are some other examples in history of writers, journalists or activists using written and spoken word to avoid conflict?
Would you consider Easton's "relation" a primary or secondary source, or is it something else? Explain your reasons.

What is happening in the image?

How does the image compare to Easton's account of Metacom's speech?

Paul Revere Jr. produced this image in 1772 for a history of King Philip's War which would gloss over the war's true costs to Native tribal nations.With that in mind, how does the artist choose to represent Metacom? How might the artistic choice appeal to his intended audience?

1 John Easton, A Narrative of the Causes Which Led to Philip's Indian War, of 1675 and 1676 ed. Franklin Benjamin Hough (1858)