Excerpt from New England's Memorial (1669)
Date

September 1621, Written in 1669, Published in 1855

Material

Paper, Book

Author/Maker

Nathanial Morton (1613-1685). Edited by Sewall Harding (1855)

Source

New England's Memorial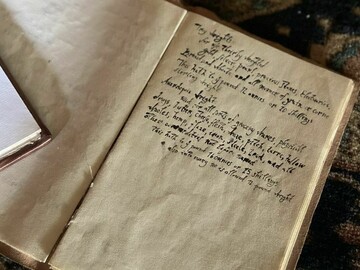 Nathaniel Morton arrived in Plymouth Colony in 1623 and served as Secretary of Plymouth for over 40 years between 1645 and his death in 1685. As Secretary, he maintained the colony's vital records which enabled him to write New England's Memorial (1669) which is widely regarded as the first history book published in the United States. Historians believe that Morton drew heavily from the writings of his uncle, William Bradford. However, there are several entries such as the description of the September meeting of sachems from southeastern New England that are not referenced in other writings from Plymouth Colony including Of Plymouth Plantation, Mourts' Relation and Good News from New England, suggesting that Morton had access to other writings that have been lost to time.
Transcription
"1621. This year several of the Indian Sachems (besides Massasoiet, before named) came unto the government of New Plymouth, and acknowledged themselves to be loyal subjects of our sovereign Lord King James, and subscribed until a writer to that purpose with their own hands; the tenor of which they said writing followeth, with their names annexed thereunto. It being conceived, by some that are judicious, that it may be of use in succeeding times, I thought meet here to insert it.
September 13, Anno Dom. 1621.
Know all men by these presents, That we, whose names are under written, do acknowledge ourselves to be the loyal subjects of King James, King of Great Britain, France and Ireland, defender of the faith, etc. In Witness whereof, and as a testimonial of the same, we have subscribed our names or marks as followeth:1

Ohquamehug
Nattawuhunt
Quadaquina
Cawnacome
Caunbatant [Corbitant]
Huttamoiden
Obbatinnua
Chikkatubuk
Apannow [Epinow]

What is happening in this passage? Who is involved?
When is this event happening? What other activities may be happening around this time?

What does this encounter suggest about Wampanoag and other Indigenous diplomatic customs?

Who is responsible for making political and trade agreements for a community?

How does this agreement compare the agreement between Ousamequin and John Carver six months earlier in March of 1621?

What is the difference between being a "loyal subject" and being a "friend and ally?" Why might the English writers use such different phrases?
1 Nathaniel Morton, The New England's Memorial Reprinted by Allen Danforth, 1826. (Bedford, MA: Applewood Books), pg/ 44