National Day of Mourning Monument (1998)
Date

1970

Material

Bronze, Memorial Plaque

Author/Maker

Erected by the Town of Plymouth on behalf of the United American Indians of New England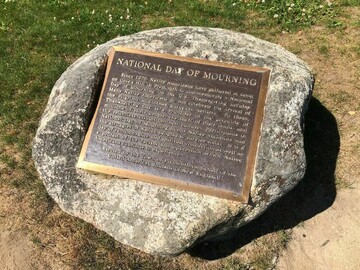 Reflecting on the centrality of Thanksgiving to American life, in the mid-20th century, groups began to use the holiday to comment on the American experiment. In 1970, an annual National Day of Mourning tradition began in Plymouth, MA when Frank (Wamsutta) James is prevented by the event organizers from giving a speech calling attention to the detrimental effects of five centuries of colonization at the 350th anniversary of the Mayflower's arrival. In 1998, the town of Plymouth erected a plaque atop Cole's Hill commemorating the historical significance of the event.

Transcription
NATIONAL DAY OF MOURNING

Since 1970, Native Americans have gathered at noon on Cole's Hill in Plymouth to commemorate a National Day or Mourning on the U.S. Thanksgiving holiday.Many Native Americans do not celebrate the arrival of the Pilgrims and other European settlers. To them, Thanksgiving Day is a reminder of the genocide of millions of their people, the theft of their lands, andthe relentless assault on their cultures. Participants in National Day of Mourning honor Native ancestors and the struggles of Native peoples to survive today. It is aday of remembrance and spiritual connection as well as a protest of the racism and oppression which Native Americans continue to experience.

Erected by the Town of Plymouth on behalf of the United American Indians of New England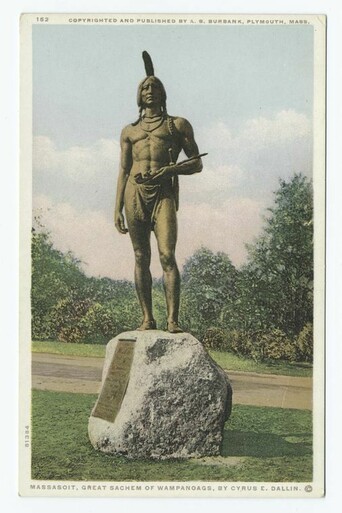 National Day of Mourning 2022 Livestream from Plymouth, MA (Nov. 24, 2022)
Why is the National Day of Mourning significant?

How does the National Day of Mourning tell a different story about Thanksgiving?

Does the National Day of Mourning change the way you think about Thanksgiving? If so, how?