The Plymouth Scene by Lowell School in Philadelphia PA
Date

1922

Material

Photograph

Author/Maker

Dan E. Paul

Source

Plimoth Patuxet Museums Collections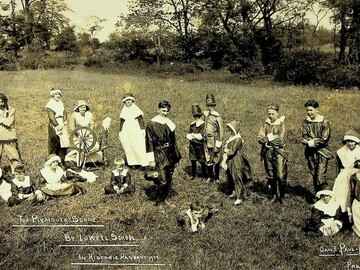 In a time when many students were children of immigrants, teaching about Thanksgiving was seen as one way to help Americanize them. Each November, school children made stereotypical "Pilgrim" and "Indian" costumes with black hats and white cardboard collars, and feathered headdresses. They often put on plays or pageants telling the story of The First Thanksgiving.1
What is happening in this photo?

What story(ies) are the students telling about the 1621 harvest celebration?

What is missing from this photo?

After reading the eye witness account of the harvest celebration, what did these children get right?

What changes would you recommend to make the scene more accurate?

If you were to take this photo today, what would you do differently?

1You are the Historian: Investigating the First ThanksgivingTeacher Resources, 2002