Map of Wampanoag Country in the 1600s
Date

c.1980

Material

Map, Paper

Author/Maker

Nanepashemet/Edward Pollard (Assonet Wampanoag)

Source

Plimoth Patuxet Museums, Wampanoag Indigenous Program Archives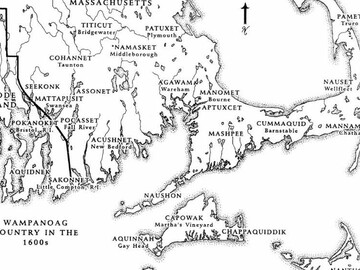 The Wampanoag are one of hundreds of tribal nations across the Americas and have called Turtle Island1 home for at least 12,000 years. The name Wampanoag means "People of the First Light." According to Nauset Wampanoag and Penobscot historian and cultural leader Nancy Eldridge:
In the 1600s, dozens of villages made up the Wampanoag Nation. These villages covered the territory along the east coast as far as Wessagusset (today called Weymouth), all of what is now Cape Cod and the islands of Natocket and Noepe (now called Nantucket and Martha's Vineyard), and southeast as far as Pokanocket (now Bristol and Warren, Rhode Island)." Today, about 4,000-5,000 Wampanoag live in New England. There are multiple Wampanoag communities - Aquinnah, Mashpee, Herring Pond, Assonet, Chappaquiddick, Pocasset, and Seaconke - with smaller groups and communities across the United States and world. Recently, we also found some of our relations in the Caribbean islands. These people are descendants of Native Wampanoag People who were sent into slavery after a war between the Wampanoag and English. We, as the People, still continue our way of life through our oral traditions (the telling of our family and Nation's history), ceremonies, the Wampanoag language, song and dance, social gatherings, hunting and fishing.

The Wampanoag Homeland provided bountiful food for fulfillment of all our needs. It was up to the People to keep the balance and respect for all living beings and to receive all the gifts from The Creator. We were seasonal people living in the forest and valleys during winter. During the summer, spring, and fall, we moved to the rivers, ponds, and ocean to plant crops, fish and gather foods from the forests.

Because of many changes in North America, we as the Wampanoag cannot live as our ancestors did. We adapt but still continue to live in the way of the People of the First Light. 2
Reflecting on the importance of place and community for Wampanoag people, Aquinnah Wampanoag historian and tribal leader Linda Coombs commented:
How people lived and moved within their area — whether it was a village area or their nation's area — in a village area, they had places where they summered; wintered; fields laying fallow; places where they had hunting camps; where they went fishing; where they went burying; where they got this plant or that plant. And, you know, the myth that we didn't use the land — We didn't just use it, we had a relationship with it. And it was a relationship that allowed the land to be what it was. And we could take what we needed, but it didn't deplete it, it didn't destroy it.3
Historically, each self-governing Wampanoag community had a population of a few hundred to several thousand and was led by a sachem (or leader) and sachem's council who made strategic decisions to best serve the community's interests. Sachemships were traditionally hereditary passed through famillies from father to child. At the time of his death in 1661, the sachemship of Pokanoket passed from Ousemequin to his eldest son Wamsutta. After Wamsutta's death in 1662, his younger brother Metacom (also known as Philip) became sachem. Some of these powerful sonksquash (female leaders) included Awashonks (Sakonet) and Weetamoo (Pocasset), who are best remembered for advocating for their people's soverignty during King Philip's War (1675-1676).
Today, Wampanoag people live around the country and across the globe. Many Wampanoag who still live in their homelands live in communities such as Mashpee (Cape Cod), Aquinnah (Martha's Vineyard), Herring Pond (Plymouth, MA), and Assonet (Lakeville, MA). Each community elects a tribal chairperson and advising council members to provide leadership, oversight, and advocacy.

Map of Wampanoag Country in the 1600s
View PDF
This map of Wampanoag Country in the 1600s, in what is now known as Massachusetts and Rhode Island, demonstrates some of the roughly sixty-seven villages. The map contains both the Wampanoag name of a village and the modern name. The following places are marked on the map:
Massachusetts
Patuxet (Plymouth)
Titicut (Bridgewater)
Namasket (Middleborough)
Cohannet (Tauton)
Seekonk
Assonet
Mattapusit (Swansea)
Pocasset (Fall River)
Acushnet (New Bedford)
Agawam (Wareham)
Manomet (Bourne)
Aptuxcet
Mashpee
Naushon
Mashpee
Cummaquid (Barnstable)
Nauset (Wellfleet)
Mannamoyik (Chatham)
Capowak (Martha's Vineyard)
Aquinnah (Gay Head)
Chappaquiddik
Nantucket
Rhode Island
Pokanoket (Bristol)
Aquidnek
Sakonnet (Little Compton, R.I)
Who are the Indigenous people who live where you live? What are their names for your town, city, or state?

Find Patuxet on the map. What is its English name?

What can you learn from a map? How is this map different from a globe?
How might maps tell different stories depending on the perspectives of their makers?

What story does the map tell about the region?