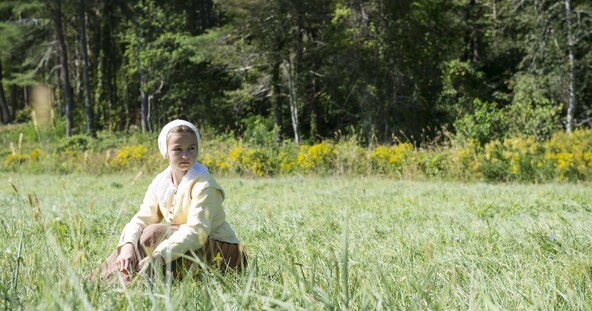 What Happened to Sarah Morton?
If you've read the book Sarah Morton's Day, you probably learned a lot about a day in the life of a Pilgrim girl. But, that was just oneday of her life. There were many other days!
Sarah was born about 1620 in Leiden, a city in Holland. Records of births don't always survive, so sometimes historians have to estimate based on things they do know, such as the year a child's parents were married or the ages of their siblings.
About eight years before Sarah was born, on July 23, 1612, Sarah's parents, George Morton and Juliana Carpenter Morton, were married in Leiden.
Sarah's father, George, worked as a merchant. A merchant is someone who buys and sells goods for a profit.
Sarah had an older sister named Patience, and two older brothers, Nathaniel and John. They were all born in Leiden.
In 1623, when Sarah was still a young child, her father decided the family would move to New Plymouth.
Sarah and her family traveled from England to America on either a ship called Anne, or a ship called Little James. Historians aren't sure which one, because both ships arrived in Plymouth in the summer of 1623.
Sarah's aunt, Alice Carpenter Southworth, joined Sarah's family on the voyage to America. Aunt Alice was the sister of Sarah's mother, Juliana. She traveled to New England to marry William Bradford, the governor of Plymouth Colony. Sarah's youngest brother, Ephraim, was born either just before the family left Holland or soon after the family's arrival in Plymouth. Shortly after the Morton family came to New Plymouth, however, tragedy struck the family. Sarah's father George died in June 1624.
By 1627, Sarah's mother had remarried, and Sarah had a stepfather. His name was Manasseh Kempton. Manasseh and Juliana did not have any children together, but they continued to live in Plymouth Colony. By this time, Sarah was nine years old, and she may not have been living with her family anymore. Records show that she might have been living with the family of Ralph and Joyce Wallen. In the 1600s, it was common for English children of all social classes to be sent to live with other families as servants. There, they would learn important life skills about how to run a household.
On December 20, 1644, when she was 26 years old, Sarah Morton married George Bonham. Sarah and George had six children: George, Jr., Ruth, Patience, and three daughters all named Sarah. In the 1600s, if a child died at an early age, the parents might name their next child after the child who had died. The four children who survived all married and had children of their own.

Sarah Morton Bonham died in Plymouth in 1694 at the age of 76. Her husband, George, outlived her by 10 years.