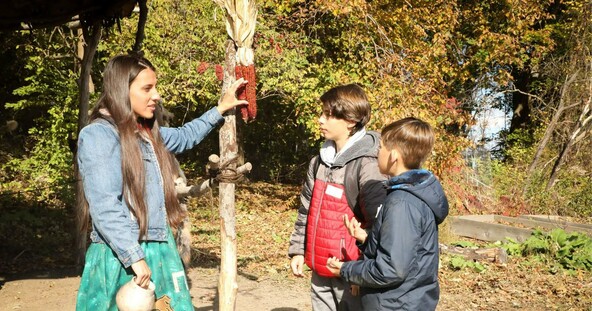 Teacher Guide to the Museum
Henry Hornblower II Visitor Center & Exhibit Galleries
Your journey begins here at the Visitor Center. The Visitor Center features orientation theaters, museum shops, and exhibition galleries. There are restrooms on either side of the building, as well as the Plentiful Café, which features tastes from the 17th century as well as modern lunch items and drinks.
After viewing the brief orientation film, Along the Shores of Change, you'll follow pathways to to our living history exhibits. Enjoy the experience of nature. Let the trees, grasses and flowers help your students enter a world before cell phones, before airplanes, and before electricity. Remind them that they're entering a world lit only by sunlight and fire.
Historic Patuxet Homesite
At the Historic Patuxet Homesite, you can learn more about the story of the Wampanoag people before the English colonists arrived, during the time the two groups lived as neighbors, and through the devastating impacts of four centuries of colonization. Don't be surprised if you are drawn into a traditional game or invited to sit down for a conversation on a fur-covered bench lining the walls of the nuhshwetu.
In the Wampanoag language, "Patuxet" means "place of little waterfalls" or "place of falling water." At the Historic Patuxet Homesite, you'll learn about the Indigenous peoples - both Wampanoag and others - who have lived here since time immemorial. Today, there are between 5,000 and 6,000 Wampanoag people living in the area most commonly known as southeastern Massachusetts, Cape Cod, and the Islands. In this exhibit, your students will learn about the Indigenous heritage of the Northeast from historians and teachers of many backgrounds, Indigenous and others, who discuss the 17th-century lifeways of a culture that continues to thrive today. Our Homesite historians speak from a modern perspective. Some staff members who are part of Indigenous communities may be wearing traditional clothing, often referred to as regalia, and some staff may not. Wearing these sacred pieces of clothing at the Museum is a personal choice.

Learn more about Historic Patuxet
Before your visit
Watch
Watch The Wampanoag Way, an 8-minute video for elementary students that explores the life of two Wampanoag girls past and present.
During your visit, your students might:

Learn how modern Wampanoag life is different from Wampanoag life in the 1600s.

Learn how the Wampanoag reacted to the Pilgrims' arrival in their homeland. How did their relationships change over time?

Discover the materials needed to build a wetu (house), mishoon (boat), or plant a garden. How are those materials collected?

Compare and contrast Wampanoag life in each season. How does your day change at different times of the year?

Explore the natural world of Historic Patuxet.

Touch and identify the fur of an animal. Have you seen or heard this animal before?

Ask a staff member to show you a creation (food, tool, fur, jewelry) made from an animal. What parts of the animal are used to make the item? Why were those parts used?

How did humans change the landscape of Patuxet (e.g., planting corn, cutting down trees, or clearing brush)? Why were those changes made?

Can you spot a food source for an herbivore? What about a pollinator?

Find your favorite creation or belonging on the Historic Patuxet Homesite and learn more about it. Ask a staff person if you can handle the item. Can you tell how it was made? What was its purpose? What materials were used? Is this item still made and used today?

Be aware of sights, sounds, and scents as you experience the Historic Patuxet Homesite. What do you hear? What do you smell? How might the sights, sounds, and scents have been different 400 years ago? 500 years ago?
Practical Considerations
Real animal furs, bones, and other resources are exhibited in the Historic Patuxet Homesite. Wampanoag people respect all living beings by using every part of the animal, and many of these animals were purchased or donated to the Museum by local Indigenous people for educational purposes.

As you visit, please show respect for the landscape by not climbing on rocks, trees or structures.

Wetuash (houses) and exhibit areas are small. It is best to travel in groups of ten or fewer with adult chaperones or group leaders (even if your students are middle or high schoolers).

The nuhshwetu (home) has limited space. You may have to wait to go inside. As you wait, discuss with your group: why do you think Wampanoag people chose to live inland away from the ocean during the winter?

The exhibit areas do not need to be visited in any particular order. If an area is crowded, visit another and return later.

Many of the creations students will see in the Historic Patuxet Homesite hold special historical or cultural significance. Please do not touch or handle the creations unless staff are present.

Many museum staff who are members of a Wampanoag or other Indigenous tribal nation choose to wear modern clothing to teach about their communities. They may wear deerskin clothing similar to that of their ancestors as part of cultural celebrations and ceremonies. To learn more about 17th-century Wampanoag clothing and regalia, check out this "What to Wear?" essay for students.
17th-Century English Village
In the 17th-Century English Village, we hope you'll spend some time exploring. When you encounter someone wearing historical clothing, they are playing the role of an actual inhabitant of Plymouth Colony. You might join them in mustering the militia, playing a period game or preparing a meal. They will talk about historical events and lifeways as if they are happening in the present. They can share with you their personal stories of life in England and Holland while also expressing the 17th-century hopes, fears and viewpoints of the original Plymouth colonists. Some viewpoints might shock and surprise your students, even as they fascinate them. People thought, believed and acted differently in the 1600s.
To help you better understand the 1600s, you will also meet some of our 21st-century staff historians and volunteers wearing modern clothing and Plimoth Patuxet name tags. These staff, who speak from a 21st-century perspective, can give you additional background on life in the 1600s and how the Museum accurately re-creates the worlds of 17th-century Plymouth. They may be presenting a demonstration, telling a story, or facilitating a discussion of colonial viewpoints that might seem foreign to us today.
Learn more about the 17th-Century English Village
Before your visit
Watch
Watch Pilgrim Life, a 6-minute film that explores daily life for Pilgrim children in the 1620s.
During your visit, your students might ask:
What are you doing? How can I help?

Where did you come from? Who did you travel with?

Why did you choose to come here? What did you think when you first arrived here? Do you have any family or friends here?

What goods, tools, and resources are most important to your daily life? Where did you get them?

Who are your neighbors? Do you have good relationships with them? Why or why not?

What are you most excited about being here in Plymouth? What makes you most anxious or worried?

What are your tasks or responsibilities? Do you have a favorite? What about a least favorite?

Do you have any children living in your house? What do they do during the day? What do they do for fun?

What are your favorite foods? Can you eat them here in New England?

What animals did you bring with you? Why did you bring those particular animals?
During your visit, your students might:
Stop and listen in on the Pilgrims' conversations!

Take a moment to close your eyes and identify the many smells and sounds you are encountering. Do this periodically as you travel through the historic sites.

Imagine you lived in 17th-century Plymouth Colony. Where would your food come from? Your clothing? What might you do for work or fun?

Choose an object the Pilgrims used in their daily lives. Learn about its function and compare it to objects that we use for the same purpose today.

Compare the attitudes of different colonists by questioning several people on a topic that you find significant. What factors or patterns might contribute to their differences of opinion?
Practical Considerations
Because the buildings are small, it is best to travel in groups of ten or less. Each group must be accompanied by a chaperone or group leader.

If pressed for time, it is better to spend more time with a few role-players or in a few areas, rather than rushing to see everything. Please note that not all houses will be staffed every day.

The houses do not need to be visited in any particular order. If a house or area is crowded, visit another and return later.

If you enter a house that is not staffed, carefully observe the objects with chaperone supervision. Please ask museum staff if you can handle objects. They are glad to help students explore the engaging material culture of the 17th century.

Because there are fewer role players than there were colonists in 1620s, not everyone who lived in the colony at that time is represented. The person you wish to meet may not be portrayed on the day you visit, but that doesn't mean other Pilgrims can't talk about their neighbors.

You will probably not meet any Pilgrim children during your field trip. The modern children who sometimes portray the youth of Plymouth Colony are in school, too!

Our Rare and Heritage Breed animals are a special and beloved addition to our living history exhibits. Please be respectful and do not feed, touch, or tease the animals. Please DO enjoy watching them as they go about their days!
The Craft Center
At the Craft Center, students can learn about 17th-century craft from skilled artisans who s. These modern artisans use many of the same techniques, materials, and tools used hundreds of years ago.
Practical Considerations
Allow approximately 15 minutes for your Craft Center visit.

The Craft Center includes a Museum Shop featuring items made by the artisans, as well as books and objects relating to 17th-century crafts and trades.

The restrooms in the Craft Center are the closest public restrooms to the living history sites, conveniently located between the Historic Patuxet Homesite and the 17th-Century English Village. Water fountains are available on the exterior of the Craft Center near the pavilion.
The Nye Barn
The Nye Barn highlights Plimoth Patuxet's Rare and Heritage Breeds animal program. The program conserves endangered livestock breeds while exhibiting animals that represent those found in 17th-century Plymouth Colony. The Nye Barn and 17th-Century English Village are home to a selection of these animals on a rotating basis. They include Kerry and Milking Devon cattle, San Clemente Island and Arapawa Island goats, and Wiltshire Horned sheep.

During your visit, your students might:
Compare these older breeds of livestock with breeds that students are more familiar with. What are some of the visible differences?

Discuss the idea of genetic diversity and its importance. What might be the consequences without it?

Read the text panels to make some educated guesses about what accounts for the dwindling numbers of these historical breeds.
Practical Considerations
The Nye Barn is near the school bus parking lot. It is a good place to start your visit if you are early, or end if you are waiting for the rest of your group.

Please do not feed, touch, or tease the animals.

The pasture area is surrounded by electric fencing as well as traditional wooden fencing.
Mayflower II
Mayflower set sail from Plymouth, England on September 6, 1620. On November 11 - after 66 days at sea - Mayflower anchored in Nauset homelands, what is known today as Provincetown Harbor. That day, most of the male passengers signed the famous agreement now known as the Mayflower Compact. Mayflower left for England in April 1621 with no colonists choosing to return home. More information on the 1620 voyage and signing of the Mayflower Compact may be found in our Homework Help essay, Mayflower and Mayflower Compact.
Built between 1955 and 1957, Mayflower II is a reproduction of a late 16th-century English merchant ship of the same size as the original Mayflower. She sailed to Plymouth, Massachusetts from Plymouth, England in 1957 and is now listed on the National Register of Historic Places. Mayflower II is seaworthy and sets sail every few years as a special event.
While aboard Mayflower II, students can explore three of the five decks of the ship and talk to Museum staff and Maritime Artisans about the history of the 1620 and 1957 Mayflower voyages. The Maritime Artisans and Museum Guides work in modern clothes and speak from a modern perspective.
Before your visit
Watch
Discuss
The Mayflower Compact was an agreement based on shared goals and visions for the future of Plymouth Colony. It also established necessary laws and civil government to ensure their success. Before your field trip, work in small groups to make a "Field Trip Compact."
Read
Young learners may enjoy the Museum's Mayflower 1620: A New Look at a Pilgrim Voyage,Squanto's Journey: The Story of the First Thanksgiving by Joseph Bruchac, or The Boy who Fell Off the Mayfloweror John Howland's Good Fortune by P.J. Lynch.
During your visit, your students might:
Discover what was life like aboard Mayflower in 1620.

Consider the risks of a transatlantic journey in the 1600s. Why were Mayflower's passengers willing to take that risk? What about the crew?

Explore the science and technology behind how Mayflower was sailed? What navigation tools and techniques were used? Are the same tools and techniques still used today?

Gather evidence to make an educated guess about what happened to Mayflower when she returned to England in 1621?"

Consider what Wampanoag communities knew about England and Europe before the Pilgrims arrived. What did the Pilgrims know about the Wampanoag?

Tisquantum (also known as Squanto) crossed the Atlantic at least twice in a ship like this in the years before Mayflower arrived. How did his experience compare to the Pilgrims'?

Explain what type of boats the Wampanoag use. What tools and materials are used?

How are mishoonash powered? What navigation tools and techniques do they use?

Learn how Mayflower II got from England to Plymouth, MA in 1957. What historical evidence did its builders use to understand how Mayflower may have looked?

Learn why Mayflower II is an important part of our history.
Practical Considerations
Please plan to arrive 15 minutes before your scheduled entrance time. The ship's limited capacity makes it important for groups to arrive at their reserved time.

Allow about 30 minutes for your Mayflower II visit.

Mayflower II is located 3 miles north (about 15 minutes) of Plimoth Patuxet's main location. We recommend allowing at least 20 minutes to travel between locations.

There are no bathrooms aboard Mayflower II. Public restrooms are located near Mayflower II in Pilgrim Memorial State Park.

Watch your footing. The gangplanks and stairs are steep.

Mayflower II's dockside exhibit is wheelchair accessible. Because Mayflower II is a historic vessel, the ship itself is not. If you have a member of your group who needs special assistance, please notify Guest Services.

Mayflower II is fully operational and all the lines (ropes) have a specific purpose, so please don't pull on them. Ropes and rigging, as well as the ship's bell and ladders, are only for the use of the crew.

Plimoth Patuxet's waterfront Museum Shops are located between Mayflower II and Plymouth Rock. Children should be accompanied by an adult at all times. The shops are small, and visiting in small groups is strongly recommended.
Plimoth Grist Mill
The Plimoth Grist Mill is a reproduction of the water-powered grist mill built along Plymouth's Town Brook in 1636. View the 200-year-old millstones that still grind corn today, learn about the ecology of Town Brook, and explore the water technology that has powered mills since antiquity. Today, Plimoth Grist Mill is a working mill and is proud to be part of a growing movement to localize grain production and rebuild regional grain economies. At the Plimoth Grist Mill, you might investigate STEM topics, including simple machines, gear sets, renewable energy sources, and basic engineering principles, from a 17th-century perspective.
During your visit, your students might:
Discover the meaning of the word "grist." How many synonyms can you name?

Mills are complex tools for solving problems. Explore what problem the grist mill is solving.

Understand where the mill's energy (or power) comes from? Is this energy "green" or "renewable"? Why or why not?

Compare how the mill uses kinetic and potential energy to do different tasks.

Count the number of gears at work in the Plimoth Grist Mill. What type(s) of gears are they and what do they do?

Find out what products are made at the Plimoth Grist Mill.

Learn who was responsible for the mill in the 1600s. What was their job title and how were they trained?

Make an educated guess about whether everyone in Plymouth and Patuxet used a mill once it was built.

Analyze why was corn so important in Pilgrim and Wampanoag communities.
Practical Considerations
Please plan to arrive 15 minutes before your scheduled entrance time. The mill's limited capacity makes it important for groups to arrive at their reserved time.

Allow about 30 minutes for your Plimoth Grist Mill visit.

Plimoth Grist Mill is located 3 miles north of Plimoth Patuxet Museums' main campus. We recommend allowing at least 15 minutes to travel between locations. Free, time-unlimited car parking is available. There is no long-term bus parking available at the Plimoth Grist Mill.

There are no public restrooms at the Plimoth Grist Mill. Students should plan to use the restrooms at your previous stop. In a pinch, public restrooms are available seasonally at the 1749 Court House on Market Street, about a 5-minute walk from the Grist Mill.